Rush Limbaugh on Migrants Being Forced to Drink Toilet Water in Border Shelters: It's 'a Step Up'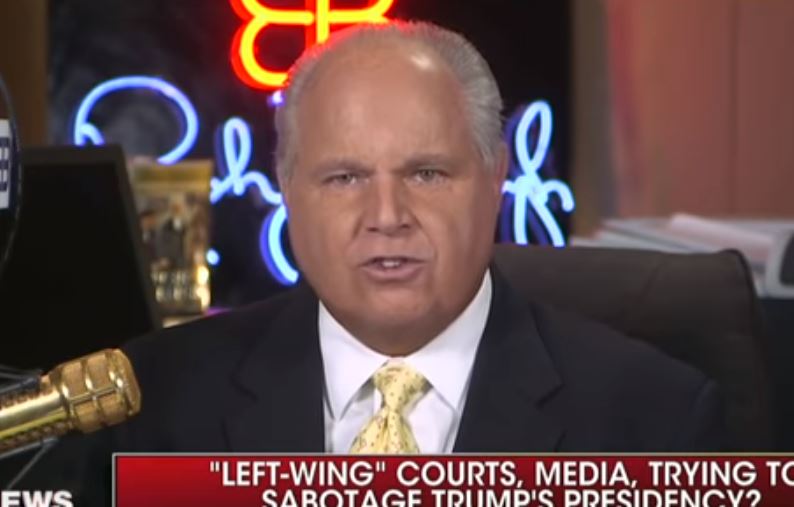 Rush Limbaugh doesn't believe the story that migrants being held in the Trump administration's detention camps are being forced to drink water out of toilets. But if they are, surely it is a step up from the water in their home countries.
That was the assertion of the corpulent conservative talk-show host on Tuesday. Limbaugh was ranting about the Democrats who visited the camps this week, most particularly Rep. Alexandria Ocasio-Cortez (pronounced by Limbaugh in a mocking Hispanic accent). After the visit, AOC claimed that one of the migrants she spoke to told her she had been forced to drink out of a toilet by a Border Patrol officer who said there was no other water available.
Limbaugh was not having it as he furiously hollered the water could not be that terrible to drink. Certainly it's no worse than what migrants have to drink in Guatemala or Honduras:
"But my friends, based on what we're told about the circumstances where these people are fleeing, maybe toilet water is a step up for some of them, based on what the left is telling us their homelands are like."
"The U.S. can produce only marginally cleaner water for desperate refugees than they would get in the countries they are fleeing" is perhaps not the solid burn Limbaugh thinks.
Before that, Limbaugh cast doubt on the whole visit:
"Now she runs down there and starts trashing and lying about conditions at the border and the people who administer the people who come into this country illegally. Flat-out lies that the detainees are being forced to drink out of toilets. The border patrol and ICE people are denying this and even this gaggle of lunatics with Alexandria Ocasio-Cortez admit they haven't seen it."
Even AOC didn't say she had seen it happen, simply that she was told by a detainee that it had happened. Of course the Border Patrol and ICE agents maintaining the facilities are going to deny it. Trying to find out if they are telling the truth about anything is why AOC and her fellow members of Congress went down to Texas in the first place.
Listen to the entire clip above, via Media Matters.