Fox's Brian Kilmeade: I Don't Think Robert Mueller Knows What's In The Mueller Report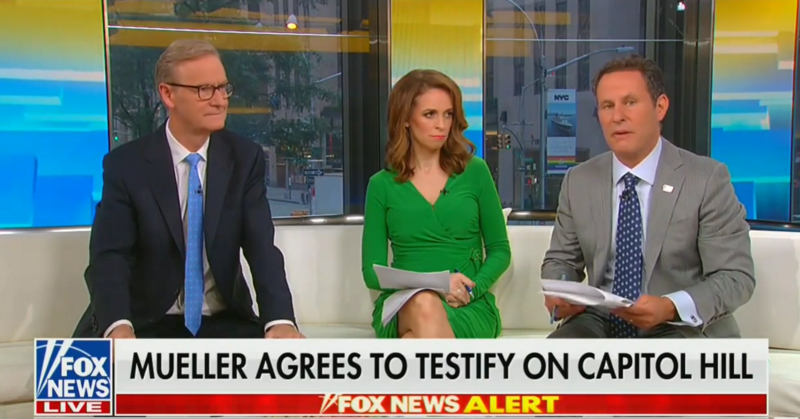 Special Counsel Robert Mueller is set to testify before Congress in July and Fox News has already started to ramp up efforts to discredit him. On Fox & Friends Wednesday morning, co-host Brian Kilmeade did his best to preemptively deny that Mueller knew anything useful.
"One thing is pretty clear," Kilmeade said. "They're gonna ask Robert Mueller, too. How did it make you feel when the President of the United States said that you're come compromised or how did it make you feel when the President of the United States kept attacking the process?"
"What did you think about the rumors he was going to fire you? I'm not sure he is going to answer that either."
"The other thing I have a sense of, and he's got until July 17 to bone up on it, I don't think he knows the details of the report," Kilmeade said.
"He better, his name's on it," co-host Steve Doocy said, almost incredulous.
"He's like the King of England on this," Kilmeade said. "He assigns the people, they're gonna say why are most of them Democratically affiliated? Aren't you concerned about the perception if you hire people like that to do this job? Do you understand why some feel there was an agenda in there?"
"If he doesn't know it now, I'm pretty sure he's sitting with a highlighter going over it because he's gonna want to make this his moment," co-host Jedediah Bila said.
Kilmeade's comments echo a statement by Fox News' Sean Hannity Tuesday where he suggested that Mueller had some sort of mental difficulty.
Watch the video above, via Fox News.