Kayleigh McEnany Tells Fox News Trump Is Leading In Polls, Ignores Fox Poll Showing Him Losing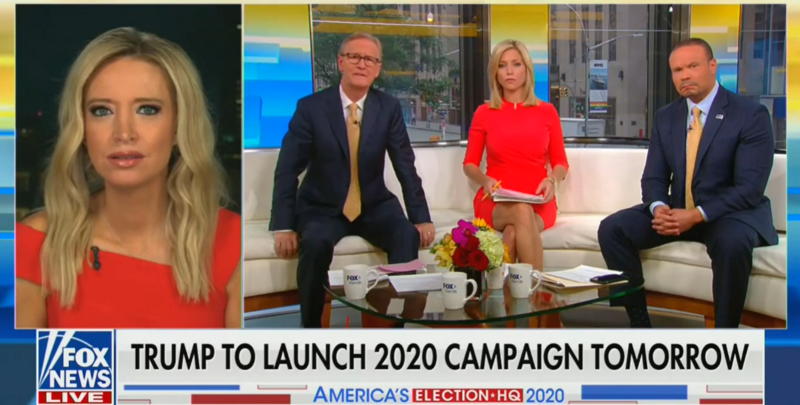 Trump campaign press secretary Kayleigh McEnany told Fox & Friends that the President is winning all the 'real' and 'accurate' polls Monday morning. But McEnany failed to mention a recent Fox News poll that shows Trump trailing Democratic contenders.
"You mentioned polling a moment ago," co-host Steve Doocy said. "The story over the weekend was that the President is not doing very well in his internal polls. And, in fact, it sounds like, and you probably won't be able to confirm this, but it sounds like the campaign has fired a couple of polling companies because they leaked to some news outlets."
"We're not confirming our personnel decisions but what I can confirm is the ABC and NBC stories about leak polling are more fake news," McEnany said. "Yes, those numbers were accurate but they were from three months ago. They were pre-Mueller Report."
"They were the worst case scenario and the most unfavorable turnout model. But can I tell you, Steve, right now the President is leading in all 17 swing states against a defined Democrat. When the Democrats started mentioning socialism, when they started mentioning radical policies, we saw movement toward the President. We're very comfortable with where we stand, so don't believe the stories you're reading."
"So those leaked polls were accurate you are saying but they were from three months ago. So they weren't fake news, they were old news," Doocy said, choosing not to bring up the Fox News poll that confirmed the campaign's internal findings.
"They were old news and they were the most unfavorable turnout model," McEnany said. "We have to predict who 's going to turn out. This was the most pro-Democratic turnout model you could see. So it's understandable that that polling would look that way. When you look at the real polling, the most accurate polling, defined Democrats. The President is leading in all 17 swing states as he noted."
In fact, recent polling shows Trump behind in crucial battleground states and McEnany's explanation for the campaign's internal polling is dubious at best. If the campaign has internal polling showing Trump ahead, it's likely these numbers would have been leaked to the media. Even Fox News doesn't agree with the Trump campaign's assessment of his poll numbers.
Watch the video above, via Fox News.