'Fox & Friends': Government Could Send You To The Worst Hospital Under Medicare-For-All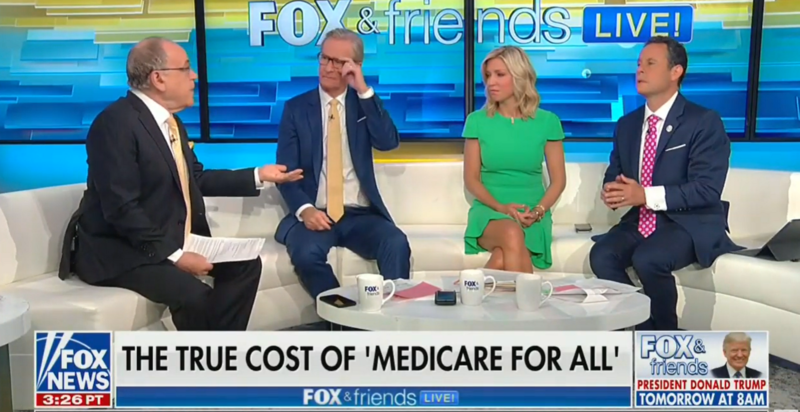 Fox & Friends returned to one of its favorite topics Thursday morning: the horrors of Medicare-for-all. As Democratic presidential candidates discuss healthcare plans, the Fox News morning show hosted Dr. Marc Siegel, who warned the idea would be disastrous.
"Medicare-for-fall. We understand where people's heart is. They want to give medical coverage for everybody. But this is not reality, is it?" co-host Brian Kilmeade said.
"Not only that, it's not really Medicare," Siegel said. "By the time you're done with it, you're  looking at a system that's somewhere between Medicare and Medicaid, number one. Number two, you lose all the choice that you have under the current employer based healthcare system, which is covering over 170 million people."
Ainsley Earhardt, who has been outspoken in her opposition to Medicare-for-all in many segments like this one, added some of her usual criticisms, without offering evidence.
"You can't choose your doctor," Earhardt said, a callback to a conservative attack on Obamacare, where a minority of recipients would they weren't able to keep their doctor.
"You can't choose your health insurance plan, you can't choose your doctor, you can't choose where you go for care," Siegel said, once again failing to point to any concrete proposals that would require this. "They're gonna muscle everybody in."
"The government could send you to the worst hospital, the one that has the worst rating, and have you no choice," Earhardt said.
"Absolutely,"Siegel said. "Not only that, doctors will be paid about 40% less."
Scaremongering about healthcare reform is common on Fox News and the dire scenarios painted by Fox & Friends are nothing new.
Watch the video above, via Fox News.