YouTube's Attempts to Explain 'Demonetizing' Homophobe Steven Crowder's Channel Leaves Everyone Confused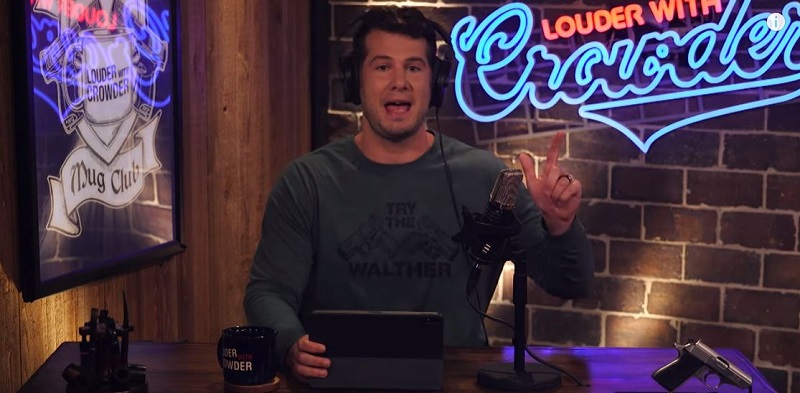 YouTube fell all over itself Wednesday while trying to explain why it will "demonetize" the channel of right-wing host Steven Crowder.
Vox's Carlos Maza, who is gay, had called out YouTube last weekend over racist and antigay harassment he has endured from Crowder for the past two years. The right-wing pundit has made a cottage industry of verbally abusing Maza, often calling him "a lispy queer," an "angry little queer," and a "gay Mexican," among other charming labels.
Maza, who produces the Vox show "Strikethrough," documented in a long Twitter thread the abuse he receives from Crowder's fans and called on YouTube to stop hosting the right-winger's video channel.
Earlier this week, YouTube announced it had reviewed Crowder's channel, determined it did not violate their terms of service, and would take no action against it. On Wednesday the company reversed itself, announcing it would "demonetize" Crowder's channel until he addressed "a pattern of egregious actions."
The company did not publicly define those "egregious actions." Later, a spokeperson told Vice that YouTube evaluated Crowder's channel and determined that he did not specifically encourage his followers to direct abuse at Maza. Therefore, the company will continue hosting the channel.
In short, YouTube will allow Crowder to continue earning ad revenue once he fixes these unspecified problems with his channel.
Maza then pointed out that most of Crowder's revenue comes not from ads, but from selling swag such as t-shirts on his own website, which receives a percentage of its traffic from Crowder advertising it on his YouTube channel. This led to a confusing exchange in which YouTube seemed to say that demonetization meant Crowder would have to remove links to the online store where he sells t-shirts:
To clarify, in order to reinstate monetization on this channel, he will need to remove the link to his T-shirts.

— TeamYouTube (@TeamYouTube) June 5, 2019
Sorry for the confusion, we were responding to your tweets about the T-shirts. Again, this channel is demonetized due to continued egregious actions that have harmed the broader community. To be reinstated, he will need to address all of the issues with his channel.

— TeamYouTube (@TeamYouTube) June 5, 2019
Presumably, YouTube meant any links to Crowder's online store, since he sells other items besides t-shirts. But whether this means Crowder must simply remove any links to his site from his channel's home page, or whether he also cannot mention his site on his show or put up any graphics listing the URL remains unclear.
What this seems to boil down to is that YouTube would be perfectly fine with gobbling up its own share of whatever ad revenue Crowder does earn if he meets their requests. That he earns it by spewing racism and homophobia at a particular individual, which motivates his followers to go after that same individual as well, does not seem to matter to the company.
What would it take to get someone banned from YouTube for leading abusive pile-ons? Perhaps if Crowder had a lot fewer than 3.8 million subscribers, we would find out.