Rush Limbaugh Excited by Trump Amplifying Kim Jong Un's Attacks on Biden: Normally, 'Republicans Play Nice'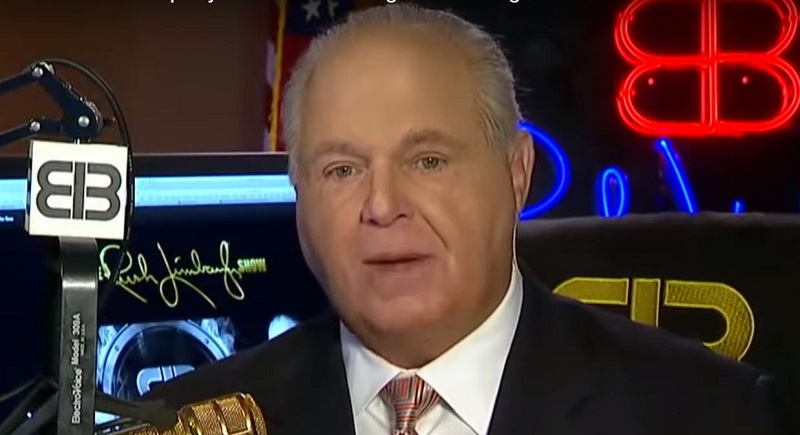 The right-wing push to defend Donald Trump siding with North Korean dictator Kim Jong Un to insult Joe Biden continued on Tuesday afternoon as Rush Limbaugh got into the act.
The talk-radio yakker joined Ari Fleischer in blaming Democrats for Trump's comments about Biden. As Fleischer had done on Fox News' Outnumbered earlier in the day, Limbaugh's defense of Trump amounts to "Drrrrrr, Democrats did it first, drrrrrrr."
"When was it, was it the 2004 presidential campaign, you got Clinton, we got Gore, we got who knows how many Democrats all over Europe running down George W. Bush and the Iraq War," Limbaugh complained to his audience. "And nobody was concerned about politics ends at the water's edge, or whatever it was."
Like Fleischer, Limbaugh is getting the argument backwards. The issue is not about the propriety of attacking a president while he is overseas. The issue is whether it is appropriate for a president to attack his political opponents while he is overseas, and draft the alleged opinion of a dictator accused of starving his own people and executing his enemies with antiaircraft guns to support his argument.
Naturally, Trump's attack is something Limbaugh celebrates.
"What Trump is doing is turning it around. Normally Republicans do not play tit-fot-tat this kind of thing, " the host said. "Republicans are sitting ducks. Republicans play nice. Republicans play by the accepted rules and the norms of American politics defined by the Democrat Party, the Washington establishment, and the media"
Republicans do not play tit-for-tat is a wild statement to make about a party that has, among other decades-long grudge matches, spent over 30 years weaponizing the federal judiciary because its members are still mad about Robert Bork not being confirmed to the Supreme Court.
Listen to Limbaugh's rant above, via Media Matters.