'Fox & Friends': Biden 'Has To Answer For The Obama Legacy'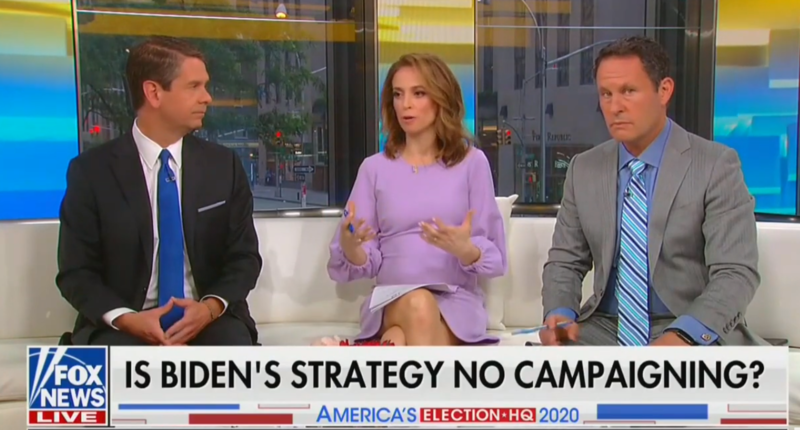 Fox & Friends hosts were concerned about former Vice President Joe Biden Tuesday morning. Brian Kilmeade, Griff Jenkins and Jedediah Bila were worried that Biden wasn't getting enough exposure as a candidate for the 2020 Democratic presidential nomination, so they offered him some advice.
"Here's the problem," Jenkins said. "If you've been on the campaign trail in New Hampshire or you've been to Des Moines, Iowa, you gotta go out there and shake hands. That's the joke in New Hampshire: you meet somebody 17 times before you decide whether you like them or not."
"I would suggest to you that President Trump gave Biden the name Sleepy Joe. Well, he's doing just that is he literally not showing up. And perhaps it is as Brian suggests, you know, some speculate, it's because they want to limit any opportunities to create a gaffe."
"I think Joe Biden's worried about what he's going to say, how he's going to answer for this long record, talk about the Crime Bill," Bila said. "Maybe he will be asked about his role when it comes to what was found in the Mueller report. Challenging questions. He obviously has to answer for the Obama legacy. But the question is, what is he going to do?"
"I think he needs to get out there, I think he needs to talk about what he would do as president," Bila said. "The thing I hear most from Democratic voters is they have no idea what Joe would do if he actually got elected. No idea."
"We saw him try to defend himself against the touchy-grabby era he went through up until two weeks ago, he was still going through it," Kilmeade said later in the segment, while explaining Biden's problems. Kilmeade was also concerned about 'racially insensitive' speeches Biden have on the Crime Bill.
Watch the video above, via Fox News.