Fox's Pete Hegseth: Trump Has 'The Thickest Skin'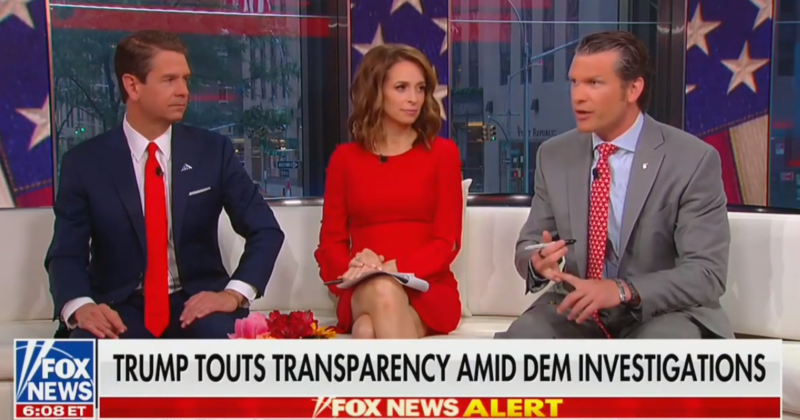 The usual Fox & Friends crew was off for Memorial Day on Monday, but that didn't step the Fox News morning show from discussing major news stories. Top of the agenda was President Donald Trump's visit to Japan, where his response to North Korean missile tests have been criticized.
"They used to say that  politics ended at the water's edge," co-host Griff Jenkins said. "That's been out the door and for quite some time. Yesterday and Sunday as Democrats attacked the President, more talk of impeachment on the campaign trail, the President had a press conference fighting back against what he believes is his desire to be transparent."
Following an excerpt from Trump's press conference, in which he claimed to be the mos transparent president ever, co-host Pete Hegseth praised the President for his response to investigations.
"It's interesting you hear the narrative from the left that they're getting under his skin," Hegseth. "I think it's opposite. This guy has the thickest skin considering the investigations and the resistance he's been under. And when he gets asked a question, he answers it. And in that particular case they tried to investigate me, why can't we move past it."
As divorced from reality as Hegseth's comments appear, co-host Jedidah Bila added: "This has been going on what seems like my entire lifetime, these investigations. There's no end in sight."
Trump is not known for being thick skinned, in reality those who have dealt with him on a personal basis have remarked on just how thin skinned and easily insulted he is. His Twitter feed provides ample evidence of this.
Watch the video above, via Fox News.