Mike Pompeo Says Russia Isn't A Democracy, Forgets Trump Congratulated Putin On Election Victory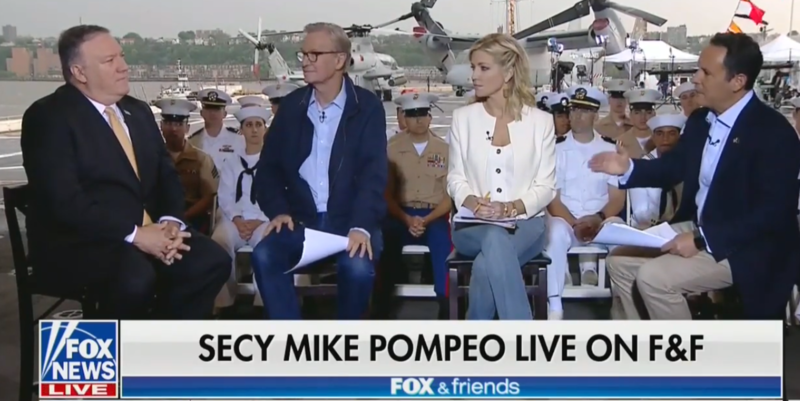 Secretary of State Mike Pompeo appeared on Fox & Friends Thursday morning. In a relatively wide-ranging interview, Pompeo discussed a number of topics, including Iran, Venezuela and the Democrats. But when he got on to the topic of Russia, he made a slip that puts him at odds with President Donald Trump.
"You had a chance to be one-on-one with Vladimir Putin," Fox's Brian Kilmeade said. "And we also had your predecessor Rex Tillerson, walking the halls testifying, over the weekend saying that the President of the United States was really out prepared by Vladimir Putin when they met a couple of years ago, to talk about for two and a half hours. What was that meeting with Vladimir Putin like? Were you able to get any points across, for example, what they are doing in Venezuela, that would change their behavior?"
"I think we had a constructive meeting," Pompeo said "Look, there's places we're never gonna see eye to eye. We have different views. It's not a democracy. Our two governments have very different."
Though this was a small admission during the interview, it directly contradicts President Trump's message to Russian President Vladimir Putin last year. Trump phoned Putin in 2018 to 'congratulate him on his electoral victory', as Trump himself said.
At the time, Senator John McCain condemned Trump's decision in stark terms: "An American president does not lead the Free World by congratulating dictators on winning sham elections," the late Arizona Republican said. "And by doing so with Vladimir Putin, President Trump insulted every Russian citizen who was denied the right to vote in a free and fair election to determine their country's future, including the countless Russian patriots who have risked so much to protest and resist Putin's regime."
Pompeo's admission that Russia is not a democracy may seem a small matter, but divisions like these should be noted in an administration that may soon seek war on Iran. Trump has lavished praise on the Russian autocrat since 2016.