Justin Amash Continues His Lonely Quest to Convince His Fellow Republicans Trump Should Be Impeached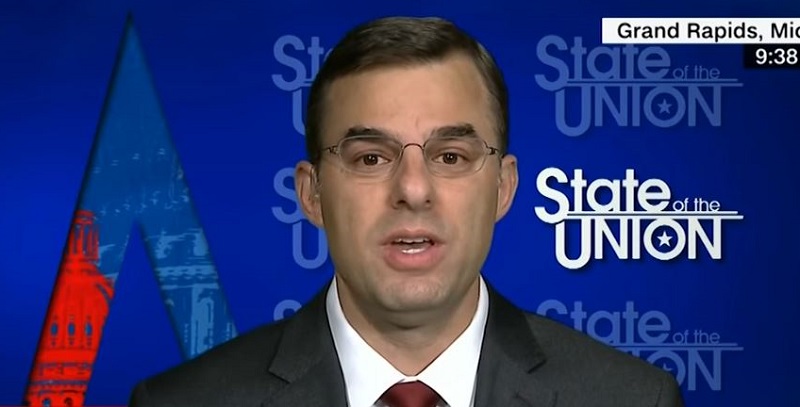 Rep. Justin Amash (R-MI) has been a lonely man in the House Republican caucus recently. And the Republican Party in general.
Amash, a libertarian, is the only high-profile Republican official who has come away from reading the Mueller report with the opinion that Donald Trump had committed impeachable offenses. Since then, he has been attacked by the leader of the House Republican caucus, earned a primary challenger for 2020, lost financial backing from the billionaire DeVos family (though the family claims it had decided to drop him before his latest apostasy), and been denounced by the Freedom Caucus, the hard-right group of House Republicans he helped found in 2015.
Oh, and the President of the United States denounced him as a "lightweight" and a "loser" on Twitter.
To his credit, Amash is not backing down. On Thursday he posted another Twitter thread carefully laying out some of the findings of the Mueller report showing how Trump obstructed justice and tried to hinder the Russia investigation:
Mueller's report describes a consistent effort by the president to use his office to obstruct or otherwise corruptly impede the Russian election interference investigation because it put his interests at risk.

— Justin Amash (@justinamash) May 23, 2019
The president has an obligation not to violate the public trust, including using official powers for corrupt purposes. For instance, presidents have the authority to nominate judges, but a president couldn't select someone to nominate because they'd promised the president money.

— Justin Amash (@justinamash) May 23, 2019
It also revealed criminal activities, some of which were committed by people in Trump's orbit and, in the case of Michael Cohen's campaign finance violation, on Trump's behalf.

— Justin Amash (@justinamash) May 23, 2019
Some of the president's actions were inherently corrupt. Other actions were corrupt—and therefore impeachable—because the president took them to serve his own interests.

— Justin Amash (@justinamash) May 23, 2019
You can read the entire thread here.
Amash's political career in Congress may pay a price for his position. Because of that, other Republicans, never the bravest group under the best of circumstances, are highly unlikely to follow his lead.