Fox's John Roberts on Trump's Meltdown: 'Most Unusual Thing I've Seen' Covering This White House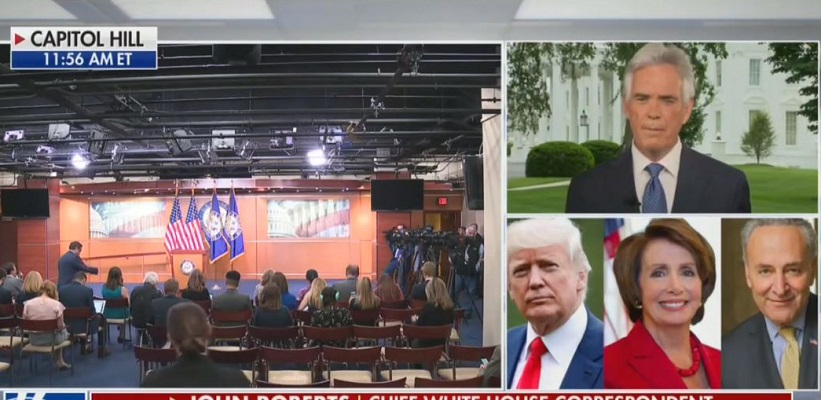 Fox News White House correspondent John Roberts made the understatement of the day in the wake of President Trump's televised temper tantrum from the Rose Garden late Wednesday morning.
Trump had just blown up a meeting on infrastructure with congressional Democrats by telling them he will do nothing until they halt all the investigations of him and his administration. He then wandered outside and blasted the Democrats to the White House press corps that had been hastily rushed to the Rose Garden.
Asked on his network's air to provide some insight on what happened at the meeting, Roberts said, "I've seen some unusual things at this White House, having covered it for as many years as I have, but I think that's the most unusual thing I've seen."
Roberts reported that Trump had walked into Wednesday's meeting saying he wanted to have "a good, productive meeting on infrastructure," but was already "incensed" that Nancy Pelosi had told reporters earlier in the day that he is engaged in a cover-up.
The Fox reporter went on to repeat conversations he has had with Trump lawyers who claim they have been thoroughly transparent with Robert Mueller during the course of his investigation. He also reported that Trump feels Pelosi had "stabbed him in the back" with her comments that morning.
He concluded that Trump has "laid down a marker" for 2020: continue with "investments or investigations. He will let the Democrats do investigation and he will go on the investment track."
Of course Trump can't really do any "investments" on his own because Congress appropriates all the funding for such projects. It's going to be fun when he realizes that.