Fox's Brian Kilmeade: Are City Councils With Sanctuary Policies Accomplices To Murder?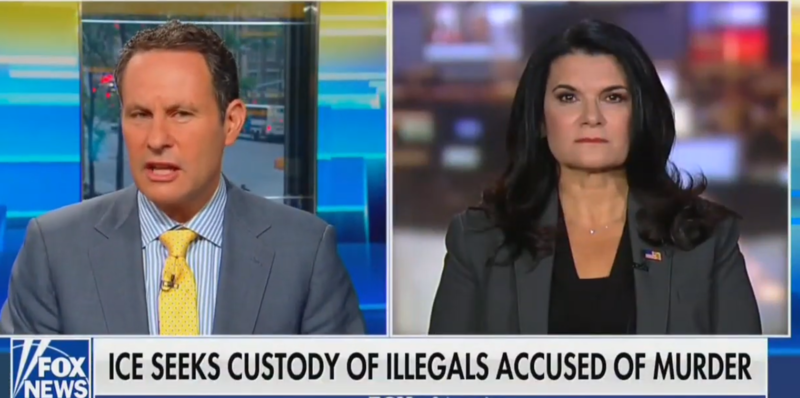 Fox & Friends was discussing immigration and the border again Wednesday morning in what's become a staple topic for the Fox News flagship morning show. Co-host Brian Kilmeade interviewed Natalie Asher of ICE and spent much of the segment attacking sanctuary cities and suggesting they were responsible for murder.
"Right now ICE seeking custody of two MS-13 members accused of murdering a 14-year-old girl," Kilmeade said. "The illegal immigrant suspects were arrested on separate charges last year and would have been deported. But instead of alerting ICE, local authorities released them. Why? Because it's a sanctuary city and they don't call law enforcement."
"There's no question, the bottom line here is public safety, community safety, we need law enforcement partners to cooperate,"Asher said. "And when you have politics driving these policies that prevent us from working with our local, state, and county partners, these types of things happen. This young girl did not have to be murdered."
"Murdered brutally and painfully," Kilmeade felt it was appropriate to add.
"Yes, brutally," Asher agreed.
"You could say that city councils who vote on these sanctuary city policies are accomplices to murder," Kilmeade said.
Asher, who is in charge of ICE's Enforcement and Removal Operations team, did not completely endorse Kilmeade's reading of the issue. Kilmeade didn't suggest outright that sanctuary cities were somehow responsible for murders, but strongly implied it, framing it almost like a question to be pondered.
"We can say that they continuously refuse to listen to law enforcement, I think, to their own. I can tell you that we have had wonderful relationships with sheriffs across the country with the National Sheriffs' Association. Many of them, their hands are tied, unfortunately due to local politics which prevents us from doing our job," Asher said.
"It seems like we care more about the illegals than we do about American citizens and that showed itself now and resulted in murder" Kilmeade said later in the segment.
Watch the video above, via Fox News.