Tulsi Gabbard Claims Story of Putin Apologists Supporting Her Is 'Fake News'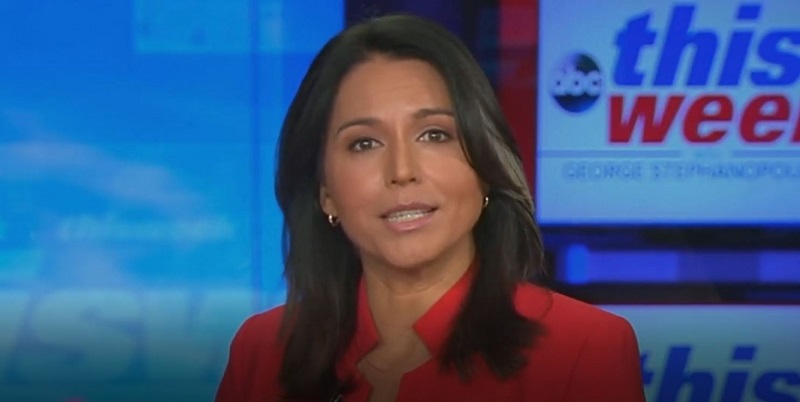 Let's see how cries of "fake news" go over with Democratic primary voters.
Rep. Tulsi Gabbard (D-HI) told George Stephanopoulos on Sunday's episode of This Week that an article earlier in the week in The Daily Beast claiming her campaign is being boosted by "Putin apologists" is "fake news."
But she could not explain why the article is fake news.
The story by Lachlan Markay and Sam Stein looked at first-quarter donations to Gabbard's presidential campaign. A few of those donations came from media figures and activists who have long pushed a pro-Kremlin, pro-Russia line in their work. These include Stephen Cohen, a contributing editor at The Nation who often writes about the U.S.-Russia relationship, and at least one employee of Russia Today, the Kremlin-funded media outlet.
After showing a graphic of the story from the Beast, Stephanopoulos ran through some of Gabbard's pro-Russia statements and actions and then asked, "Do you think that Vladimir Putin is a threat to national security?"
Gabbard responded that the article "is a whole lot of fake news." She then pivoted to saying she is "focused on what is in the best interests of the American people, what is in the best interests of our national security."
Stephanopoulos tried again, asking if she believes other Democrats "are taking too hard a line" on Russia and Putin.
Gabbard responded that "the escalation of tensions that we've seen between the United States and nuclear-armed countries…has brought us to this very dangerous point."
What she did not do is explore any of the reasons for that alleged escalation, which has been exacerbated by Russian actions in Ukraine and, most prominently, the cyberattacks on the American election in 2016. Apparently in Gabbard's worldview, that attack is to be overlooked.
None of this addresses the original question from Stephanopoulos about the Daily Beast story. Why is it "fake news" that Gabbard has gotten political donations from "Putin apologists?" The fact is that it is not. And so long as the election attack goes unpunished and even unacknowledged by the likes of Gabbard or even Presudent Trump, the American people are not likely to be in a forgiving mood to Russian apologists. Which means more anti-Russian sentiment of the sort that Gabbard sees as contributing to escalating tensions.
Watch the clip up top, via ABC.