Liz Cheney On Rashida Tlaib: Palestinians Worked With Adolf Hitler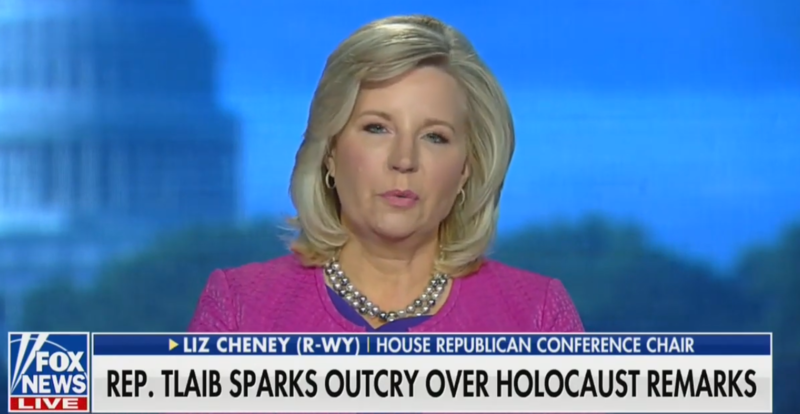 Representative Liz Cheney was on Fox & Friends Tuesday morning to discuss Democratic Representative Rashida Tlaib's comments about Israel and the Holocaust. Tlaib was discussing how Palestinians suffered during the foundation of the State of Israel, a well-documented fact, but her use of the term 'a calming feeling' in relation to the Holocaust earned criticism.
"I'm sorry that there are so many Antisemitic members of the House Democratic caucus," Cheney, a Republican from Wyoming, told Fox News.
"And, you know, we went yesterday from a situation where the Democratic leadership in the House had sort of been enabling this Antisemitism by their silence. Yesterday was different. Yesterday we had both Speaker Pelosi and Majority Leader Hoyer stand up and defend those comments that you just played."
"There's just no context in which it is OK to say that a calming feeling comes over you when you think about the Holocaust. It's sickening. And then, of course, Representative Tlaib went on to talk about this view of history that is based on lies. Exactly the kind of Antisemitic lies that are spread to delegitimize the state of Israel. And, of course, the Palestinian leadership during World War II actually worked with Adolf Hitler. So it is really – it's gone beyond the pale now with the leadership and house actually defending this kind of thing."
It's not clear what 'view of history that is based on lies' Cheney was referring to. The harm done to Palestinians in the early days of the Israeli state is accepted historical fact. It is likely Cheney's Hitler claim was an oblique reference to the Grand Mufti of Jerusalem Amin al-Husseini, who was in contact with the Nazis and engaged in Antisemitism.
It's not clear why Cheney felt it necessary to mention this relatively obscure contact between Muslims and the Nazi regime or why it should reflect badly on Tlaib.
Watch the video above, via Fox News.