GOP Sen. John Kennedy on Russians Passing Stolen Campaign Materials: 'They're Not Jelly Heads'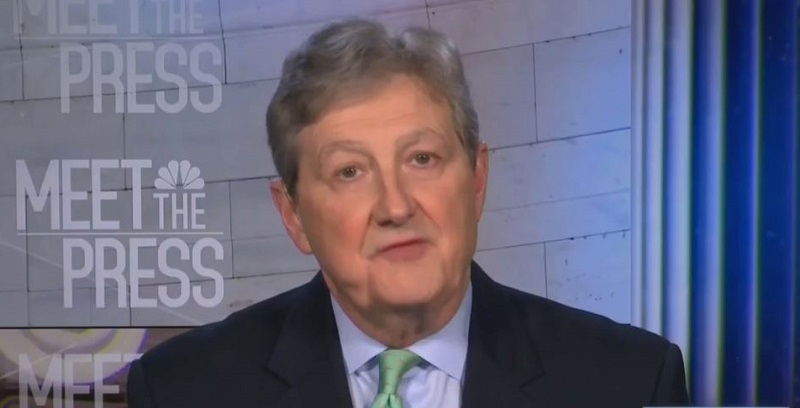 Sen. John Kennedy (R-LA) found himself in a bit of a bind on Sunday's Meet the Press.
Host Chuck Todd asked the Louisiana Republican if it should be illegal for a political campaign to use stolen material that comes from "a foreign adversary" of the United States. Todd was referring to the finding of the Mueller report that the Trump campaign had been helped by the release of emails damaging to Hillary Clinton that Russian intelligence had stolen by hacking into the Democratic National Committee and her campaign's computers.
Kennedy, who blinked so much throughout the interview that he resembled a prisoner in a proof of life video sending a message in Morse code, went through some lawyerly distinctions about knowing whether the material is stolen when you use it. Todd then asked if the Republican Party should "pledge to not use stolen material" in a campaign.
Kennedy pledged that he personally wouldn't, but reiterated that a candidate would have to know it's stolen material.
That was Todd's a-ha moment: "So Rudy Giuliani is wrong when he says there's nothing wrong with using stolen material from the Russians?"
This was the bind for Kennedy. He doesn't want to get on the other side of the issue from the president's lawyer, who two weeks ago said the opposite.
"I'm not trying to dodge your question, Chuck," Kennedy answered while dodging it by responding that he hadn't researched the question.
"But ethically," Todd responded. "Should that be wrong?"
Kennedy responed that yes, that would be wrong, but you have to know it's stolen. But the Russians aren't going to just walk in and hand someone stolen material because "They're not morons, they're not jelly heads."
Still, in the case of the Democrats' emails in 2016, the Trump campaign certainly knew those were stolen. Trump himself told Russia to go ahead and try to steal more of them. So ethically and legally, it would seem, Kennedy is disagreeing with the president, even if he can't bring himself to directly say so.
Watch the video up top, via NBC News.