Diamond And Silk: Eating Chicken To Mock William Barr Is 'Racially Insensitive'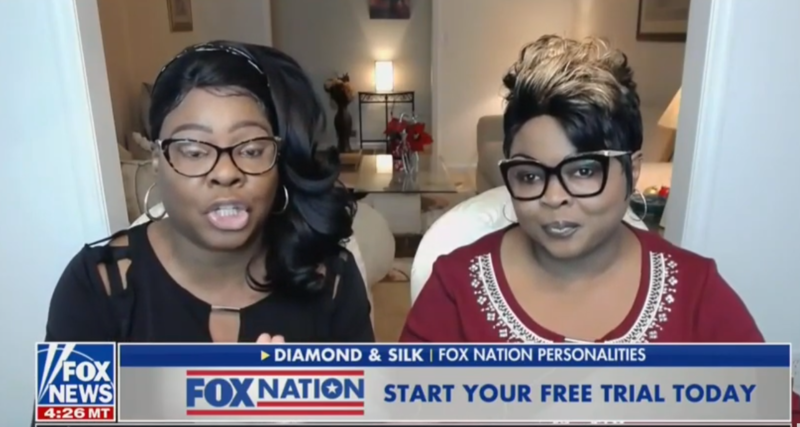 Fox Nation personalities Diamond and Silk weighed in Attorney General William Barr's refusal to speak to the House Judiciary Committee Friday morning. Lynnette Hardaway and Rochelle Richardson defended Barr and attacked Representative Steve Cohen. They spoke to Fox & Friends. 
Cohen ate chicken to mock Barr for not showing up to the hearing to answer Democrats' questions. While the Fox News hosts framed this as embarrassing for Democrats, Hardaway and Richardson saw a more sinister subtext.
"You know, he is racially insensitive. is what I think and just, can you imagine if that was a Republican doing that to a Democrat?" Hardaway asked.
While fried chicken has often been used as a way to mock African-Americans, there is no indication that Cohen was drawing upon that stereotype. William Barr is not African-American and the joke was clearly framed as 'chickening out' of something. There was also a toy chicken, not something usually associated with anti-black racism.
"But I want you all to understand the reason why the Attorney General is experiencing all of this slander is because the Democrats are afraid," They're getting caught up in the shenanigans who orchestrated and masterminded this Russia witch-hunt hoax. And, once that comes out, I mean, it's going to blow up in their faces. So what they are going to try do, they are going to try to smear him. They smear him because they fear him."
Neither member of the duo returned to the idea of racial insensitivity, or even mentioned the chicken incident at all, despite the fact that the segment was ostensibly about the viral moment.
"They fear that he is going to get to the truth," Hardaway said. "This is not about the Attorney General taking up for President Trump. He is taking up for the truth. Is he putting the truth and facts out there. And that's what the American people want to see him do."
Watch the video above, via Fox News.