Rep. Steve Cohen Mocks Barr's No-Show By Bringing KFC and Toy Chicken to Hearing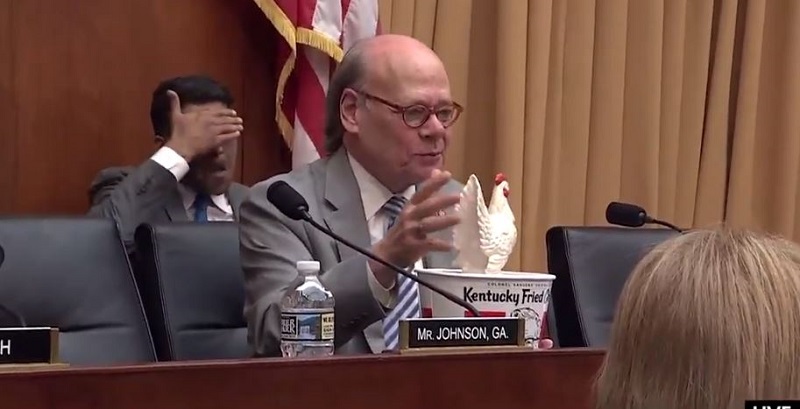 At least one person enjoyed himself during Thursday morning's abbreviated and angry House Judiciary Committee hearing.
Rep. Steve Cohen (D-TN) brought a rubber chicken and a bucket of KFC to mock the refusal of Attorney General William Barr to appear at the hearing to answer questions about his handling of the Mueller report. In full view of the committee's Republicans and the empty chair reserved for Barr, Cohen happily munched on what appeared to be a giant fried chicken breast as the toy chicken looked on:
.@RepCohen brought a plastic chicken and a bucket of Kentucky Fried Chicken (which he is tucking into ahead of this 9AM House Judiciary hearing.)

"He's here," Cohen said, pointing to the chicken and referring to AG Barr who is not attending after a grilling in the Senate. pic.twitter.com/bGz3HCRSCQ

— Lauren Gambino (@laurenegambino) May 2, 2019
Dem Rep. Steve Cohen has a glass chicken and a bucket of KFC at hearing where Dems contend that Barr was "too afraid" to take questions from staff attorneys to appear pic.twitter.com/prYxs91rOY

— Manu Raju (@mkraju) May 2, 2019
Afterwards, Cohen made a statement to the media, calling Barr a "chicken" for not showing up at the hearing:
"Chicken Barr should have shown up today and answered questions," Rep. Steve Cohen (D-TN) says, as he holds up a chicken statue. https://t.co/GB1CXMt4Nw pic.twitter.com/rHaJ6dvtRw

— CBS News (@CBSNews) May 2, 2019
Expect much clucking from conservatives over Cohen's lack of civility.