Morning Joe Blasts Trump Supporters Who 'Cuddle Up In Your Fetal Position' Watching Fox News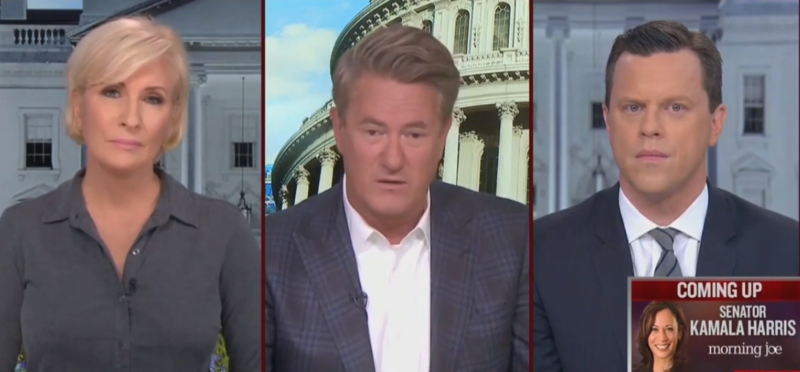 Morning Joe focused on Attorney General William Barr's congressional testimony Thursday morning. Hosts Joe Scarborough and Mika Brzezinski harshly criticized Barr for defending President Donald Trump and his attitude towards Special Counsel Robert Mueller.
"He's already mischaracterized two years of Robert Mueller's life, he's already twisted and distorted it in such a way that the American people would be confused," Scarborough said. "And actually, as Robert Mueller said to him in that letter, what you have done is actually you have undermined a central purpose of the Justice Department appointing me as Special Counsel."
"And so now that we have that letter, now he's going to phone conversations and he's following what Donald Trump's most desperate right-wing hacks have been clinging to over the past several days and they are hacks, they are sad, pathetic human beings. Sad, pathetic human beings, some of them once actually respected in American media and American politics but now … they're trading in their reputations to defend a clown that shouldn't even be defended."
"But you know, in the midst of all of this clutter and nonsense, you actually have Fox News' Chris Wallace, who actually spoke to the lies being told by many people at his own network, that actually spoke to the lies of what Robert Barr … or William Barr was saying yesterday, that when in doubt, when Donald Trump's Attorney General is caught lying, when Donald Trump's Attorney general is caught stretching the truth, when Donald Trump's lawyer is caught playing the role of Roy Cohn, we'll just blame the media."
"You see, because I know a lot of you … It's a lot easier for you to just blame the media when your President is caught lying. You don't like the facts. So you cuddle up in your fetal position and you plug in to whatever channel or whatever talk radio show makes you feel better."
Scarborough then showed a clip of Wallace criticizing Fox News' opinion personalities and highlighting the importance of Mueller's letter.
Watch the video above, via MSNBC.