Hannity Beats Maddow's Hillary Interview Head-to-Head, Tops Cable Ratings Wednesday Night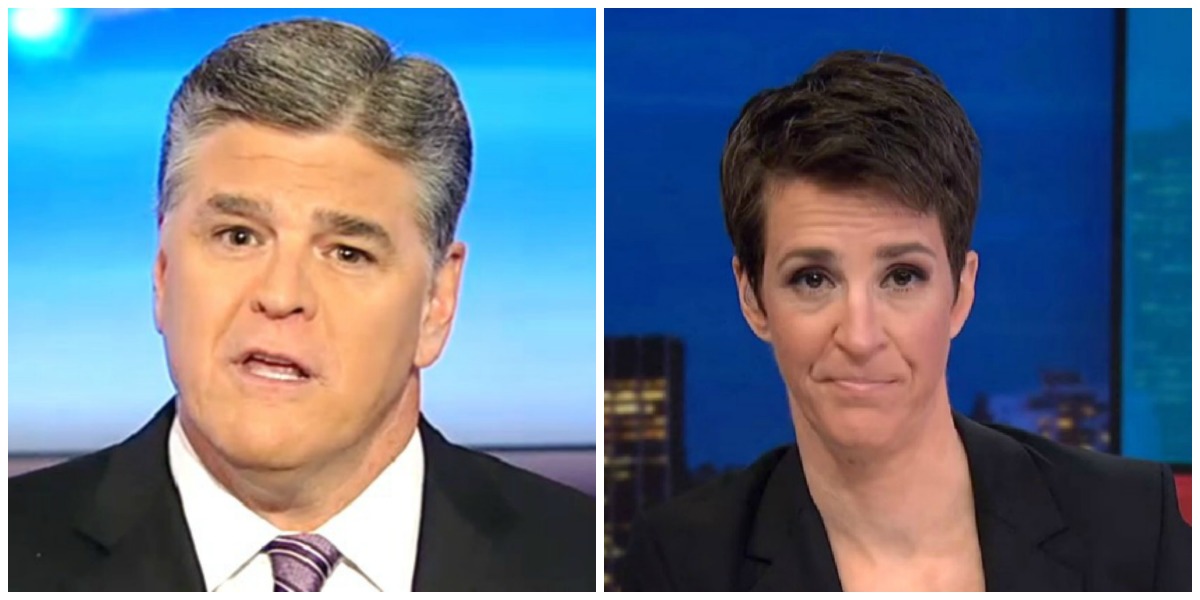 Despite MSNBC's Rachel Maddow featuring a lengthy one-on-one inte4rview with former Democratic presidential nominee Hillary Clinton Wednesday night, The Rachel Maddow Show wasn't the top-rated cable news show of the day. Or even its time slot.
According to Nielsen, Fox News' Hannity — which airs opposite Maddow at 9 PM — was the most-watched show across all of cable Wednesday evening, drawing 3.652 million viewers overall while leading cable news in the key advertising 25-54 demographic with 624,000.
Maddow, meanwhile, drew a significant audience herself, placing second among cable news programs in total audience (3.261 million) while taking third place in the key demo (494,000). Fox's Tucker Carlson Tonight finished second in the demographic (569,000) while taking third with 3.187 million total viewers.
All three cable news networks saw increased viewership during the day as the focus was on live coverage of Attorney General William Barr's testimony before the Senate Judiciary Committee.
In the 9 AM to 5 PM daytime slot, Fox News led across the board with 2.014 million total viewers and 290,000 in the key demo. CNN drew a demo audience of 242,000 and 1.100 million viewers overall. MSNBC averaged a total viewership of 1.676 million and 192,000 in the 25-54 metric.
During the 8 PM to 11 PM primetime hours, Fox News drew a robust 3.267 million viewers overall and 555,000 in the key demo. MSNBC captured 2.623 million total viewers and 396,000 in the demographic. CNN nabbed a demo audience of 251,000 and 1.027 million total viewers.
The top-rated hour on CNN was 11 AM's coverage of the Barr hearings, which drew 1.270 million viewers overall. The 1 PM coverage led in the demo with 283,000.