Fox & Friends Hint At Biden's Dark Secrets: What Does Obama Know That We're All About To Find Out?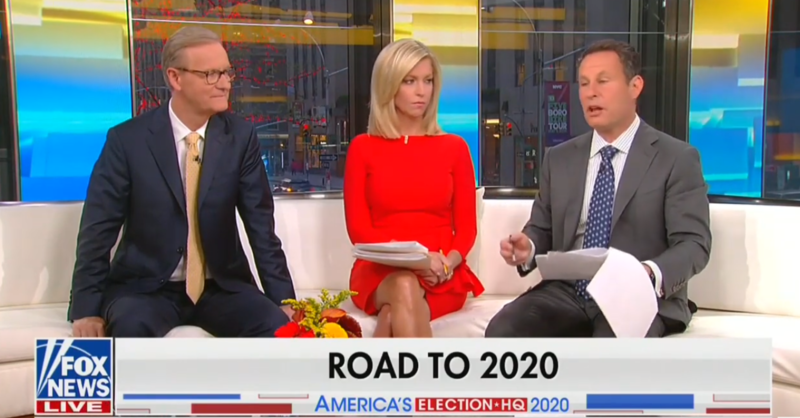 Fox & Friends used a segment on Monday morning's show to hint that former Vice President Joe Biden may have flaws that the public doesn't yet know about. Discussing a New York Times article about Biden's relationship with former President Barack Obama, the Fox News hosts speculated about Biden's dark secrets.
"They are very respectful," Brian Kilmeade said of Obama and Biden's relationship. "However, when it came to 2016 and 2020 a lot of things now make sense on why Joe Biden didn't run."
"This is what the article said. 'Over the course of weekly lunches he gently pressed Mr. Biden on his thinking'," Ainsley Earhardt said. "'Eventually the President arranged for his own strategist to deliver a daunting assessment of the odds against a race. Mr. Biden got the message. The President was not encouraging, he later acknowledged. The question now as Mr. Biden kicks off the campaign that Mr. Obama helped talk him out of four years ago is whether he can parlay his service to the last Democratic president into his own successful quest.'"
"That's right," Steve Doocy said, agreeing with the NYT article. "Because the question is, who is the logical Obama heir? President Obama's still very popular in Democratic circles because Joe Biden is going to position himself as that but then you hear talk about Mayor Pete Buttigieg or Beto and they go well he's the knew Obama. So what's it going to be? The heir to the Obama throne, you know, the presidency, Joe Biden, who was at his side for eight years, or the new guy?"
"Or does the President know, even though he loves Joe Biden, that he is not capable of being president?" Kilmeade wondered. "Ben Rhodes says, according to this, he would sit in a room and Biden would be unguided missile in conversations, just take things on a tangent. James Comey described how Biden would take meetings off track every time they were together."
"We know that Gates, who was Secretary of Defense for a while, says the Vice President has been wrong on every single foreign policy decision over the last four decades and David Plouffe was the one who was brought in by Obama to explain to Joe Biden you can't win in 2016. The question is, there's radio silence now in 2020. What does President Obama know that we're all about to find out?"
Watch the video above, via Fox News.