Fox's Shep Smith Blasts Jared Kushner for Downplaying Russian Interference: 'Disingenuous and Deceptive'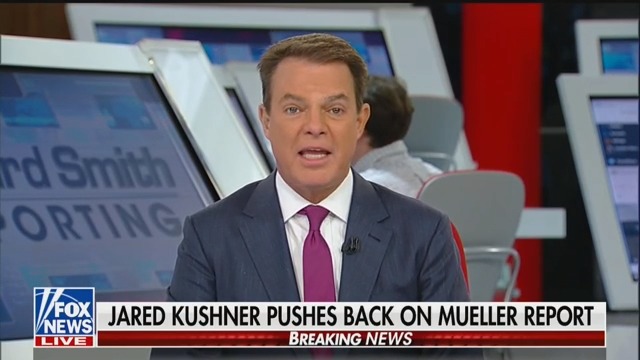 Reacting to White House senior advisor and presidential son-in-law Jared Kushner diminishing Russian interference during the 2016 presidential election as merely "a couple of Facebook ads," Fox News anchor Shepard Smith called Kushner's comments "disingenuous and deceptive" while delivering a detailed fact sheet of the severity of Russia's meddling.
Appearing at the TIME 100 Summit on Tuesday, Kushner claimed that the Mueller investigation into Russian election interference and the Trump campaign "had a much harsher impact on our democracy than a couple of Facebook ads," adding that the only thing Russia did was buy "some Facebook ads to try and sow dissent."
Highlighting that 2016 Democratic presidential nominee Hillary Clinton recently said that the Mueller report "is part of the beginning" and "not the end," Smith contrasted that with Kushner's remarks at the top of his Fox News newscast on Tuesday.
"Jared Kushner's diminishment of Russian interference is both disingenuous and deceptive," the Fox News anchor stated. "From the Mueller report we now know, Russians made contact with multiple members of the Trump campaign, including Jared Kushner and attempting to promote Russian objectives."
He continued: "They received campaign polling data from the Trump team and discussed business deals and policy goals and getting dirt on Hillary Clinton with the now president's son and others. They conducted cyber espionage, stealing e-mails and distributing them to help candidate Trump and hurt Trump's opponent. They sent Russian operatives in America in person to learn the landscape and sow division in that I broke into state and local election computers and invaded our nation in the cyber and physical worlds."
Smith was far from done.
"The United States indicted 26 Russian nationals and three Russian companies and the Mueller report makes crystal clear and all U.S. intelligence agencies concur the Russians are still trying to damage our nation, interfere in our affairs and influence our elections," he declared. "Special counsel prosecutors interviewed Jared Kushner for his contacts with the Russians including the infamous Trump Tower meeting with Donald Trump Jr. And the president's campaign chairman, Paul Manafort."
Smith concluded: "Mueller wrote that while there's evidence of communications with the Trump campaign and Moscow, there was no coordination. But on the matter of Russian interference, the Facebook ads Jared Kushner references were but a sliver of Russia's attack on America."
Watch the clip above, via Fox News.