Fox & Friends Find The Mueller Report's Real Villains: Clinton And Obama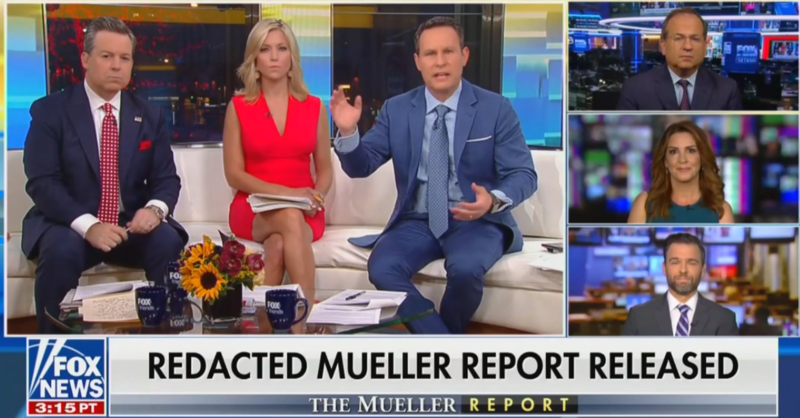 Fox & Friends spent huge amounts of time on Special Counsel Robert Mueller's report Friday morning, unsurprisingly claiming that the report exonerates President Donald Trump (it doesn't). But the hosts also returned to familiar talking points about Trump's enemies.
During a panel discussion on the Mueller Report, Fox & Friends appeared to blame former President Barack Obama and 2016 Democratic presidential candidate Hillary Clinton for Russian election interference. Host Brian Kilmeade seemed to suggest that Clinton's actions had enticed the Russians to hack her.
"There was multiple things, Brian," Fox News contributor Sara Carter said. "But I think one thing that's really important and something that you actually brought up, was the fact that the Russians were continuously trying to reach out and make contact with the Trump campaign. The Obama administration this, yet they never gave the Trump campaign a detailed defensive briefing warning them of this. Why not? This is normal procedure."
"They did it with Senator Feinstein. They've done it with others," Carter said. "And I'm certain that Inspector General Michael Horowitz is going to look at that in his report as to whether or not Hillary Clinton ever received a defensive briefing. That's going to be very interesting. Because that's going to show the imbalance between the two, how they treated the Trump campaign and how they Hillary Clinton. That's what stood out to me. The continuous contacts and failure, we know now in testimony provided by [former Attorney General] Loretta Lynch and everyone else, that they were not given a detailed defensive briefing to be warned about the Russians and their attempt to reach out to them."
Later in the segment, Kilmeade returned to the topic of Hillary Clinton, always a popular bugaboo on Fox News. Kilmeade had some theories of his own. Kilmeade attempted to paint the Trump campaign as victims, while lashing out at Clinton.
"Sarah, if you take a step back and it's hard to because we are are in the middle of the play-by-play of this whole thing and you do it every single day," Kilmeade said. "Think about the perfect storm the Russians walked into. Hillary Clinton idiotically sets up a private server and stupidly bleaches it out, creating mystery and making people wonder, what's she hiding? And 30,000 emails are out in the ether somewhere."
"Then all of a sudden, it turns out a fishing expedition goes into Podesta's email and works and it exposes all these other things. So the Russian, who are already trying to get a hold of Trump, now say I have information. Additional information on 30,000 emails that could intrigue you. And this rookie organization, known more for international business than for their politics is somewhat open to it and when the Trump Tower meeting takes place, the overture after overture one meeting takes place and nothing happens. But then you have the ah-ha moment for the investigators over the next 22 months."
"I couldn't have said it better myself, Brian," Carter agreed.
Watch the video above, via Fox News.