Fox & Friends: Democrats Could Deny Bernie Sanders Their Nomination At Brokered Convention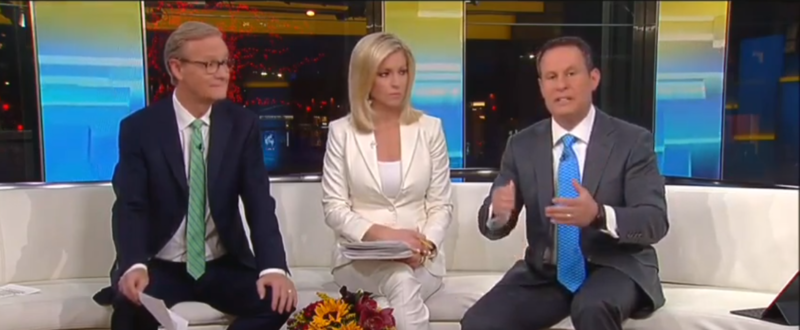 Fox & Friends discussed Senator Bernie Sanders' run for the Democratic presidential nomination Wednesday by speculating about what might happen at the Democratic National Convention – more than a year before it's scheduled to take place.
In a segment about President Donald Trump's potential challengers in 2020, Fox & Friends pointed to newspaper articles about Democrats who were opposed to Sanders winning the nomination. The hosts' imaginations took it from there.
"And here's the thing, he's doing so well right now and party leaders – remember, he's not really a Democrat, he is a socialist Democrat who caucused in the past with the Democrats," Steve Doocy said. "They don't want him to be the winner after the conventions and, in fact, they talk about, in both newspapers, about how at this stage it looks like they could go right up to the convention next summer and not have a winner. And he could be one of the guys or people who is the last man standing."
Brian Kilmeade pointed to 'secret dinners' in New York and Washington attended by senior Democrats and presidential candidate Pete Buttigieg as evidence that Democrats are planning to prevent Sanders from winning the nomination.
"There is no doubt about it. There was a push against Donald Trump because he was atypical, an outsider going in but they couldn't stop the momentum. With Bernie Sanders, the way they're  going to work it, unlike Republicans, there is no winner take all. There's proportional."
"And it's logical to think maybe he could be in the lead when they go to the convention and they might not have a nominee," Kilmeade continued. "After the first round if he's in the lead but doesn't have enough delegates, the second round, come so-called super delegates and they put a more traditional candidate there. Really? How do you think the Sanders' supporters will react to that after they reacted, when you saw how upset they were, how Hillary Clinton…"
"It was rigged," Doocy interjected.
"She rounded up her super delegates. So this could be a disaster. And I think Donald Trump is probably really upset about the potential road block," Kilmeade said.
The Fox & Friends hosts are essentially suggesting that Democrats will have a brokered convention, where no candidate has a clear majority of delegates going in. This is extremely rare in recent electoral history and at this stage, it's far too early to speculate.
They went on to talk about Buttigieg, claiming 'We really don't know about any accomplishments,' despite his military record and election as Mayor of South Bend, Indiana.
"Well, we have another year until the convention. It's going to be next summer in Milwaukee. The Democratic convention," Ainsley Earhardt said.
Watch the video above, via Fox News.