Steve Bannon Calls Trump's Election Victory 'Divine Providence'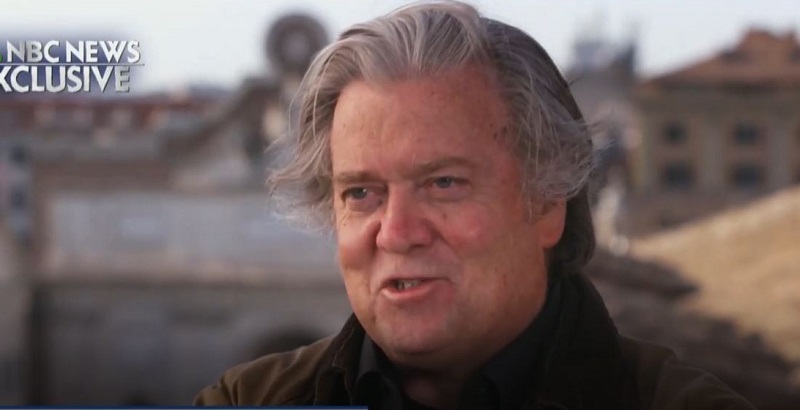 Steven Bannon believes it was part of "God's plan" that Donald Trump won the White House in 2016, the former Trump advisor tells MSNBC's Richard Engel in a special airing this Sunday night on the network.
"Divine providence allowed us to win 2016, to draw the inside straight that we had to draw in the upper Midwest, that was divine providence," Bannon told Engel in a preview of the interview that aired Friday on Andrea Mitchell Reports.
Who knew God paid so much attention to microtargeting and precinct-level polling data?
Bannon also said that Trump's victory made it clear to him that part of "God's plan" was for him to spread the gospel of nationalist populism. To that end, he has spent months traveling around Europe to meet with far-right political parties he sees as natural allies of the Trump administration. He has also, according to Engel, leased an Italian monastary, where he plans to establish a school to teach "Judeo-Christian values."
Bannon, an ultra-conservative Catholic, is also engaged in a campaign to "save the Catholic Church" from Pope Francis over his belief that the pope has not fully dealt with the Church's sexual-abuse scandal. In response, Engel interviewed a Georgetown professor named John Carr who said that Bannon and his followers have "weaponized" the abuse scandal as a way of undermining faith in Pope Francis.
Francis is a Jesuit who follows a philosophy of showing compassion towards the poor and towards migrants from Africa and the Middle East who have been coming to Europe in large numbers in recent years. Bannon and his coterie of far-right xenophobes oppose this migration and want governments to stop it. So the implication from Carr is that Bannon's weaponization of the abuse scandal is part of a larger plan to rid his beloved Church of a leftist pope and replace him with a conservative more in line with his thinking.
Watch the clip above, via MSNBC.