Tucker Carlson Leads Cable News Ratings Monday Night, Maddow Finishes Third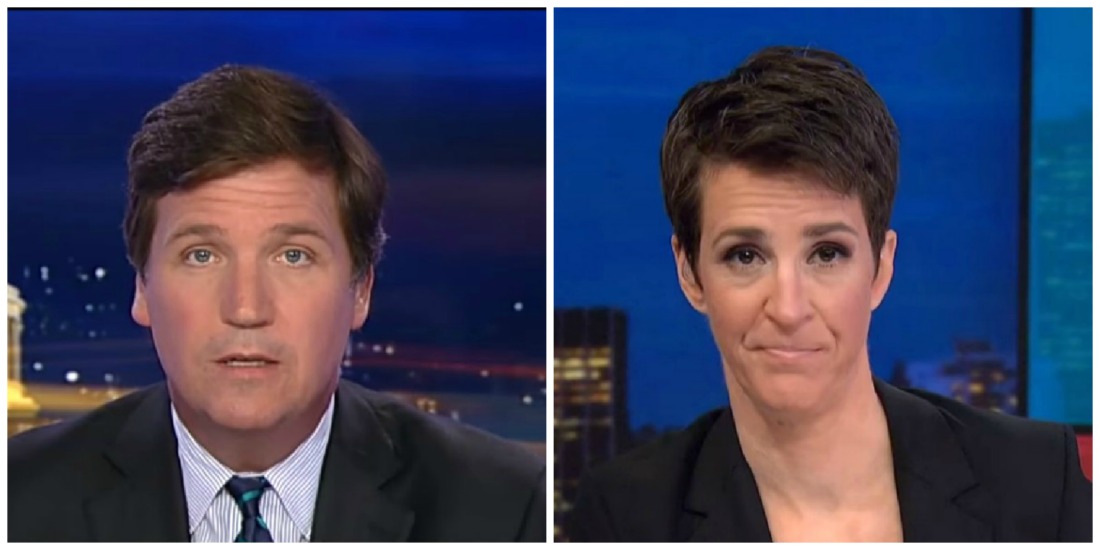 Fox News' Tucker Carlson Tonight easily led cable news in both total viewership and the key 25-54 demographic Monday night. The rest of primetime, meanwhile, had to contend with the NCAA basketball championship game, resulting in somewhat lower ratings for Fox's Hannity and MSNBC's The Rachel Maddow Show.
According to Nielsen, Fox News won across the board in the 8 PM to 11 PM primetime hours, drawing 2.500 million total viewers and 448,000 in the key demo. MSNBC came in second in both metrics, averaging 315,000 demo viewers and a total audience of 2.045 million. CNN pulled in 780,000 viewers overall and 206,000 in the demographic.
During the 9 AM to 5 PM dayside slot, Fox News attracted 1.319 million total viewers and 242,000 in the demo. MSNBC nabbed 949,000 viewers overall and 127,000 in the key demographic. CNN captured a demo audience of 122,000 and a total viewership of 567,000.
Tucker, which is currently dealing with a sustained advertiser boycott, averaged 2.932 million viewers overall and 521,000 in the demographic during its 8 PM time slot. Hannity, which airs at 9 PM, placed second overall in both the demo (490,000) and total viewers (2.535 million).
Maddow, which airs opposite Hannity, took third place in both total viewership (2.478 million) and the 25-54 metric (397,000). Fox News' The Five took fourth place in the demographic (333,000) and total audience (2.271 million).
The top-rated program on CNN was Anderson Cooper 360, which drew 832,000 viewers overall and 217,000 in the key demo.