Trump and Nielsen Clashing Over Separating Families Again Led to DHS Secretary's Forced Resignation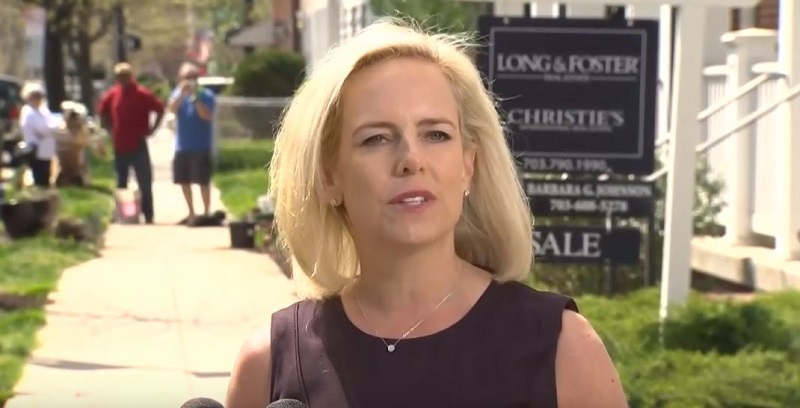 NBC News is fleshing out reports on Kirstjen Nielsen's forced resignation as Secretary of Homeland Security on Sunday. And it seems the biggest reason for her departure is that she was resisting President Trump's desire to reinstate the policy of separating migrant children from their parents at the southern border.
The network's Julia Ainsley reported on Monday morning that Nielsen had been telling the president that reinstating the policy would require not only reversing his own executive order ending it last year, but also would mean defying a court order demanding the reunification of the families split up by the government while the policy was in place. The president grew so frustrated over her hesitancy for the last few weeks that he finally demanded her resignation.
It is important to note, as Ainsley did, that Nielsen was objecting to reinstating the policy on logistical and legal grounds, not on moral ones.
Ainsley also reported that Nielsen's replacement, Kevin McAleenan, is not as "resistant" to the policy reversal as his predecessor. He also has reportedly suggested implementing an option for migrants called "binary choice." Under this policy, migrant parents who ask for asylum when they reach the border would be given the choice of either entering detention with their families for longer than 20 days, which courts have currently forbidden, or separating from their children for the length of the legal proceedings deciding their asylum status. Which could take months or even years. The children, meanwhile, would be released, presumably to guardians or foster families.
McAleenan seems to believe this separation policy will deter migrants from making the trip so they will not have to make this choice. Or perhaps they will choose a third option of turning around and walking back to Central America. President Trump reportedly agrees with him.
Watch the video up top, via MSNBC.