Trump Attorney Jay Sekulow Suggests President's Tax Returns Show Criminal Activity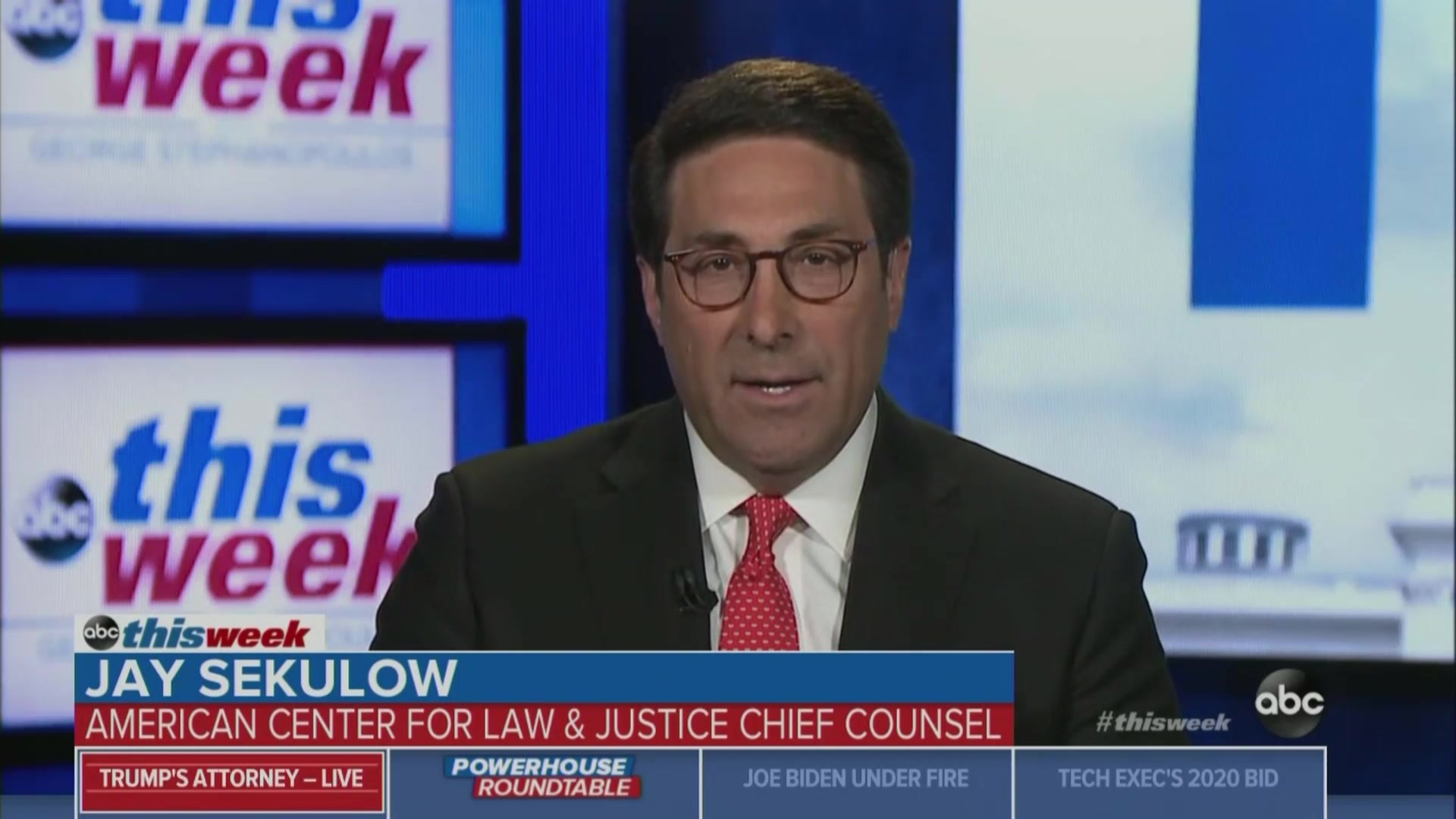 Team Trump went on the offensive Sunday morning in response to House Ways and Means chairman Richard Neal (D-MA) demanding six years of President Trump's tax returns from the IRS, declaring that Democrats will never get a hold of Trump's taxes while inadvertently suggesting the president's returns reveal criminal activity.
Appearing on ABC's This Week, Trump attorney Jay Sekulow was asked by host George Stephanopoulos about Neal's demand with Stephanopoulos noting that the law states that the IRS shall turn over the taxes after the committee chairman makes a "legitimate request."
"And the Supreme Court has said that you can do that if you have a legitimate legislative purpose," Sekulow responded. "And with due respect to the congressman, he said there's been a lack of transparency. He thinks the president should have put forward his tax returns before he announced or when he announced his candidacy for president."
Adding that it isn't the law for presidents to make their returns public, Sekulow parroted Trump's longstanding excuse that he is "under audit" as to why the president hasn't released them. He then seemingly revealed that the president's taxes could show crimes.
"What is the legitimate legislative purpose?" Sekulow asked. "Number two is the Supreme Court has said on multiple occasions that congressional oversight cannot become law enforcement."
He went on to say that House Democrats are using the IRS as a "political weapon" before adding that a committee hearing about "IRS enforcement as a way to get to the president's private individual and business tax returns makes no sense both constitutionally" and that "if it has to be litigated, it will be."
Sekulow's threat of litigation to keep Trump's returns private comes on the heels of Trump personal lawyer William S. Consovoy writing a letter to Neal that called the demand a "gross abuse of power" and asserted Trump's right to privacy.
Elsewhere on Sunday, acting White House Chief of Staff Mick Mulvaney told Fox News that Democrats will "never" see Trump's tax returns, claiming that the issue was "already litigated during the election" and while voters "knew the president could have given his tax returns" they elected him anyway even though he refused to do so.
Watch the clip above, via ABC News.