Claire McCaskill Defends Biden: Trump Changes Wives Like Other Men Change Shirts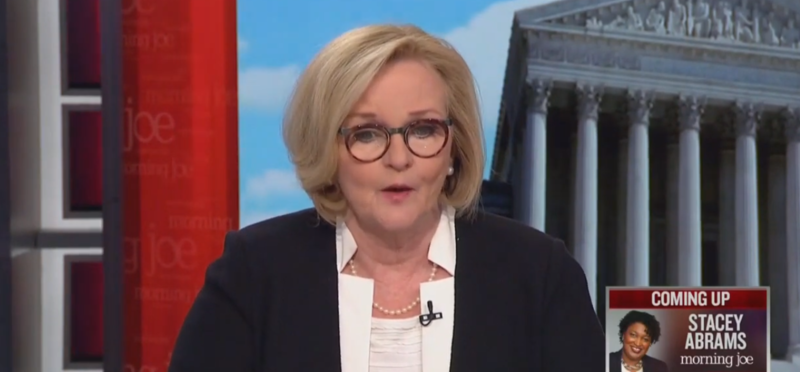 Former Senator Claire McCaskill has defended former Vice President Joe Biden. Speaking on MSNBC's Morning Joe, the Missouri Democrat argued that Biden was not predatory in any way and that recent accusations against him did not reflect his character.
"I understand why this has happened. And I understand how it's happened. I – those of us who know Joe Biden and have known him for a long time, it's a little hard because this is Joe," McCaskill said.
"He never is one of those, you know, shake your hand and look to the next person, which by the way, is the norm in politics for people who have achieved what Joe Biden has achieved in the political realm. He never looks past you to the next person. He wants to look inside of you and really hear you. And he used physical contact to do that with men and women. Joe Biden is no predator. This is not sexual."
"This is who he is. So I get that it's made some people uncomfortable and I respect that. If you've got a real thing about your personal boundary space, I understand that and I hear that and I think Joe Biden has heard it. But let's move on now."
"Let's move on and let's – I mean, he's acknowledged he's going to try to change and really be respectful of people's personal space. And I think it's appropriate that he's done that. But he never did this from a bad place, he always did this from a good place and that's why it's hard for those of us who know him well."
Later in the segment, McCaskill started comparing accusations against Biden to Trump's behavior.
"Let's talk about stuff like how we're going to help women going forward in this country," McCaskill said. "Let's start talking about the stuff that are really going to matter in this presidential election – by the way, we got a guy in the Oval Office who changes wives like other men change shirts."
There was cross talk while McCaskill went on speaking, but she could clearly be heard saying something about Trump trading in his wife for 'a younger model.'
Watch the video above, via MSNBC.