Pete Buttigieg: It's Hard to See Trump's Actions and Imagine He 'Believes in God'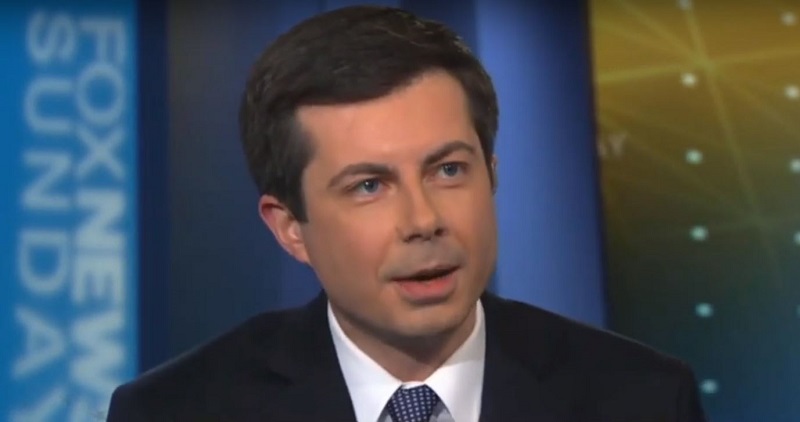 Well, this is going to draw some attention, especially from the president's most fervent supporters and his white Evangelical voting base.
In an interview with USA Today's Kirsten Powers, South Bend Mayor Pete Buttigieg spoke about his devotion to Christianity while contrasting that with the religious right's push God to be more prevalent in public life.
"The left is rightly committed to a separation of church and state," he said, "but we need to not be afraid to invoke arguments that are convincing on why Christian faith is going to point you in a progressive direction."
After stating that right-wing Christians spend so much time on things "Christ said so little about, and so little about what he said so much about," the ascendant Democratic presidential candidate addressed President Trump's spirituality. Or should we say, lack thereof.
From the USA Today piece:
Does Buttigieg think Trump is a Christian? "I'm reluctant to comment on another person's faith, but I would say it is hard to look at this president's actions and believe that they're the actions of somebody who believes in God," he said. "I just don't understand how you can be as worshipful of your own self as he is and be prepared to humble yourself before God. I've never seen him humble himself before anyone. And the exaltation of yourself, especially a self that's about wealth and power, could not be more at odds with at least my understanding of the teachings of the Christian faith."
While Buttigieg is a gay man, married in the Episcopal Church he attends, he urges those who support LBGTQ rights to "beckon people onto the right side of history (rather) than … drag people there. If someone feels harassed and put upon by us, at the very moment we're demanding tolerance and acceptance, one consequence is that we can leave them with nowhere to go but the religious right."
If you think this won't become a point of contention in right-wing media and prompt conservative talking heads to take aim at Mayor Pete, you should probably take a look at the top of the Drudge Report.
Read the rest of Powers' interview with Buttigieg here.