Mika Brzezinski Slams 'Ridiculous' Biden Accusers: The Mob Needs To Cut It Out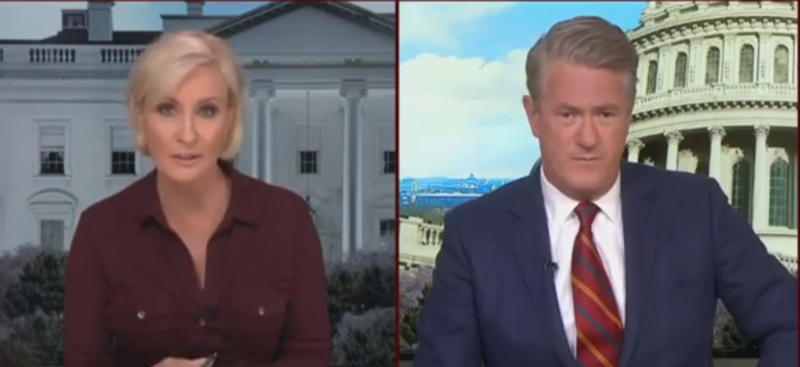 Morning Joe's Mika Brzezinski came out swinging for former Vice President Joe Biden Tuesday morning. Brzezinski was responding to claims made by a second woman, who says Biden behaved inappropriately towards her. Biden has been accused of touching both women in a way that made them uncomfortable.
Host Joe Scarborough and guest David Ignatius discussed the accusations and wondered if Biden's behavior was due to his age and the fact he belonged to a different generation. Scarborough defended hugging and touching voters, but both acknowledged times may have changed.
Brzezinski, who knows Biden personally, was eager to defend him.
"He's affectionate and I'm just going to push back and I know I put myself at great peril here, there could be more, whatever. More of what? I want to ask. Because so far these two women have gotten national coverage for something they say was not sexual. So what was it? Affectionate and they didn't like the affection? I don't know what line we're drawing here."
"And Katty Kay, you retweeted Karen Tumulty's piece that basically talks about how Biden needs to change his behavior, but the mob needs to cut it out, too," Brzezinski said. "And I'm worried about the mob here. This is not where 'Me Too; wants to go, in my opinion. Maybe thousands of women will come forward and prove me wrong. I don't think so. I don't think 'Me Too' wants to take down viable candidates for being affectionate but not sexual in their contact with women. This is not the line we want to draw, this is not where the movement wants to go."
The conversation continued, with Scarborough and guest Katty Kay discussing the issue and Scarborough finally suggesting that Biden would have to change his  behavior.
"I think Karen Tumulty makes a really good point when she says Joe needs to knock it out if he does campaign. New day, new campaign trail, new reality," Scarborough said.
"I think that's sad," Brzezinski said. "I think the next time I see Joe Biden, if he doesn't hug me and give me a kiss and hold my hand while we're talking to you, that's a new Joe Biden and that's not the Joe Biden I knew. He's a nice guy, he's not a predator and this is ridiculous."
"Let me just say it, this is ridiculous. It's completely – the whole thing – the conversation has gotten out of control. And Democrats and those on the left who want to tweet me today and go nuts and get all woke, you're eating your young, you're eating those who can beat Trump, you're killing the very people who have been pushing women ahead, who've been fighting for equal pay, who have been doing everything they can to respect women in their lives."
"And we're going to go after Joe Biden for being affectionate to women of all ages, to men as well, this is ridiculous. It's ridiculous. I don't understand it."
Watch the video above, via MSNBC.