No Apology: Jeanine Pirro Makes Fox News Return, Doesn't Address Islamophobic Controversy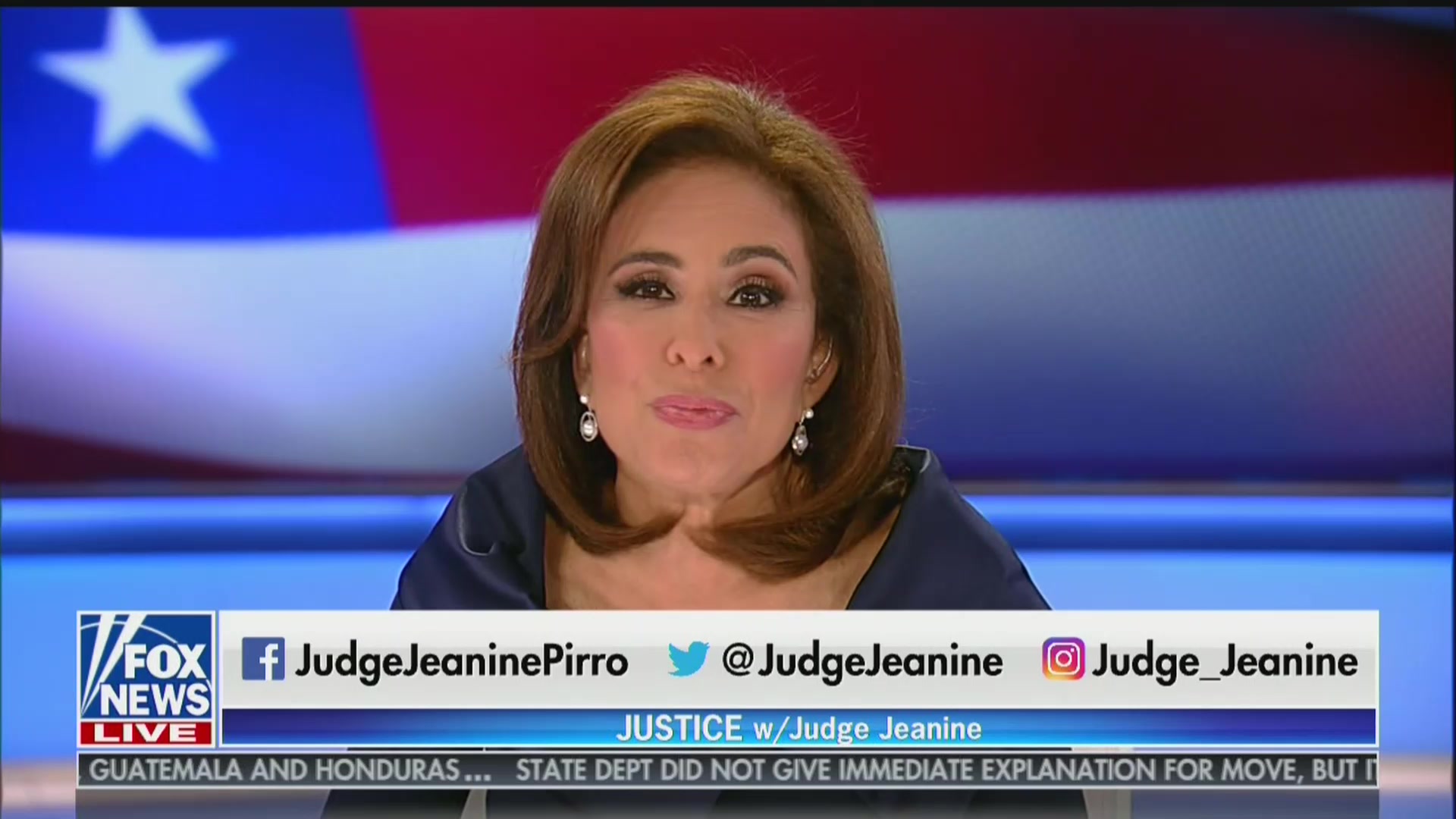 Fox News host Jeanine Pirro returned to the air Saturday night following a two-week suspension for suggesting Rep. Ilhan Omar (D-MN) did not believe in the United States Constitution because she wears a hijab during a monologue earlier this month. The network "strongly" condemned the conservative commentator for her remarks, and pulled the next two broadcasts of Justice with Judge Jeanine from the air.
While it has been widely reported that the network suspended Pirro over her comments, Fox News has not publicly commented or acknowledged her punishment. And if you were hoping the pro-Trump host would address it on Saturday evening, well we have some bad news for you.
During her opening statement in her first show back, Pirro went right into the Mueller report, parroting other right-wing pundits and calling for an investigation into the investigators. She said former senior FBI officials such as James Comey and Andrew McCabe needed to be investigated for their attempted "coup" of Donald Trump, adding that they got "a wink and a nod" from former President Obama.
"This should never happen again, and I can guarantee you it will happen again, unless we make an example of the traitorous, treasonous group that accused Trump of being an agent of the Russian government," she exclaimed.
Nowhere in her show-opening monologue, meanwhile, was there any apology for her Islamophobic remarks, or even any acknowledgment of her on-air absence.
Later in the broadcast, following an interview with Trump attorney Rudy Giuliani — President Trump openly criticized Fox News for pulling Pirro off the air — Giuliani expressed his gratitude that Pirro had returned.
Rudy Giuliani ends interview with Jeanine Pirro: "Jeanine, I am so glad you're back. We need at this time that our country is in trouble, we need your common sense voice. We need you." pic.twitter.com/u1un8Jvon5

— Contemptor (@TheContemptor) March 31, 2019
"Jeanine, I am so glad you're back," he exclaimed. "We need at this time that our country is in trouble, we need your common sense voice. We need you."
Pirro beamed and shook Giuliani's hand after his comments, but did not further address the issue he was alluding to.
At the end of her program, Pirro addressed her viewers, thanking them for tuning in while adding her signature signoff.
"Finally, thank you to each of you for watching me tonight," she said. "I love my loyal Fox News channel viewers and I appreciate all of you for joining me. Advocating for truth, justice, and the American way."
No apology. No explanation. No defense of her remarks. No nothing.
Pirro was supposed to actually make her Fox News return on Friday night during Hannity. After host Sean Hannity hyped her appearance at the end of his Thursday broadcast, however, he explained Friday night that she couldn't make it due to a "serious family emergency."
Last night, Hannity promoted a Jeanine Pirro interview on tonight's show, her first appearance since Fox pulled her from the air nearly two weeks ago.

At the end of this evening's broadcast, Hannity says Pirro couldn't make it because of "a serious family emergency" pic.twitter.com/wHXEsZsoOy

— Justin Baragona (@justinbaragona) March 30, 2019
Pirro also didn't address the family emergency during her show Saturday night.
Watch the clip above, via Fox News.