Hannity Draws Huge Ratings Wednesday With Trump Interview, Maddow Rebounds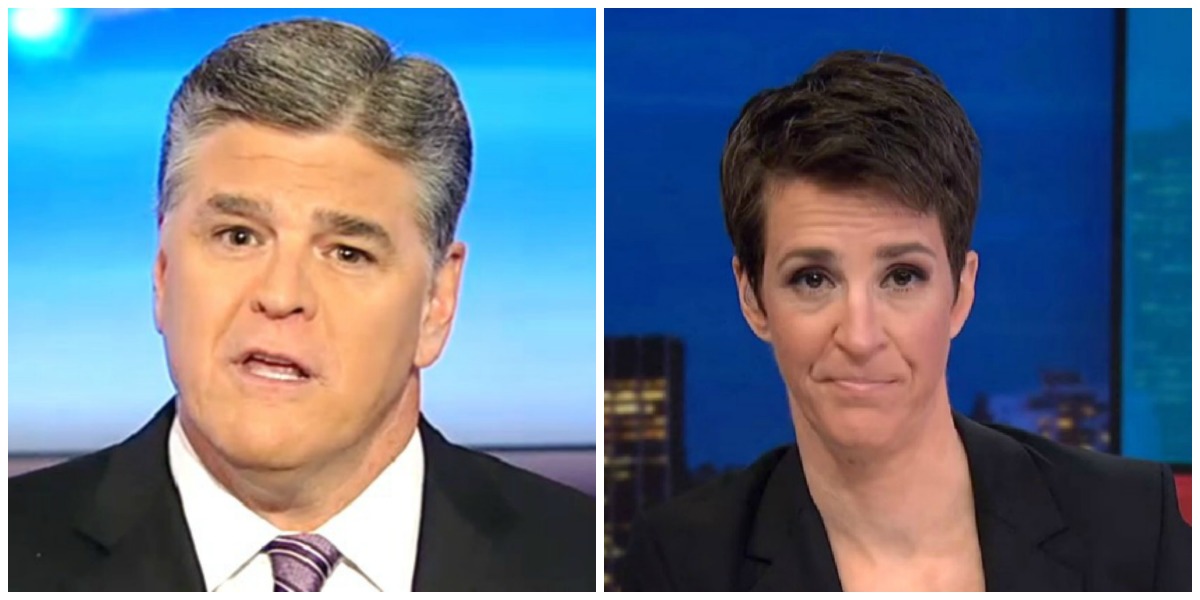 Fox News continued to dominate the post-Mueller cable news landscape Wednesday, leading across the board while boasting the top three most-watched programs and riding host Sean Hannity's President Trump interview to huge ratings. MSNBC's The Rachel Maddow Show, meanwhile, rebounded from Tuesday's tenth-place demographic finish by gaining viewers and jumping back up to the top five.
According to Nielsen, Fox News delivered a massive 3.685 million total viewers and 653,000 in the key 25-54 advertising demographic during the 8 PM to 11 PM primetime hours. MSNBC finished in a distant second with 2.141 million viewers overall and 333,000 in the demo. CNN drew only 235,000 demo viewers and a total audience of 905,000.
In the 9 AM to 5 PM daytime slot, Fox averaged 1.606 million total viewers and 295,000 in the key demographic. MSNBC nabbed a total viewership of 844,000 and 111,000 in the demo. CNN pulled in a demo audience of 112,000 and 501,000 viewers overall.
Fox News' Hannity, featuring the Trump interview, led cable news in both the demographic (778,000) and total viewership with a robust 4.303 million. Fox's Tucker Carlson Tonight took second place with 3.485 million viewers overall and placed third in the demo (584,000). FNB's The Ingraham Angle, which airs after Hannity, was second in the demographic (596,000) and third in total audience (3.268 million).
Maddow, which airs opposite Hannity at 9 PM, pulled in nearly 400,000 more viewers than Tuesday, placing fourth in both the demo (432,000) and total viewers (2.678 million). Compared to Tuesday, Maddow gained 22 percent in the key demo and 16 percent in total viewership.
CNN's struggles continued as its top-rated program was unable to top a million viewers. The network's town hall event with Democratic presidential candidate Cory Booker led the way with 927,000 total viewers and 269,000 in the demo.