Lou Dobbs Continues Attacking Paul Ryan After Former Speaker Joins Fox Board of Directors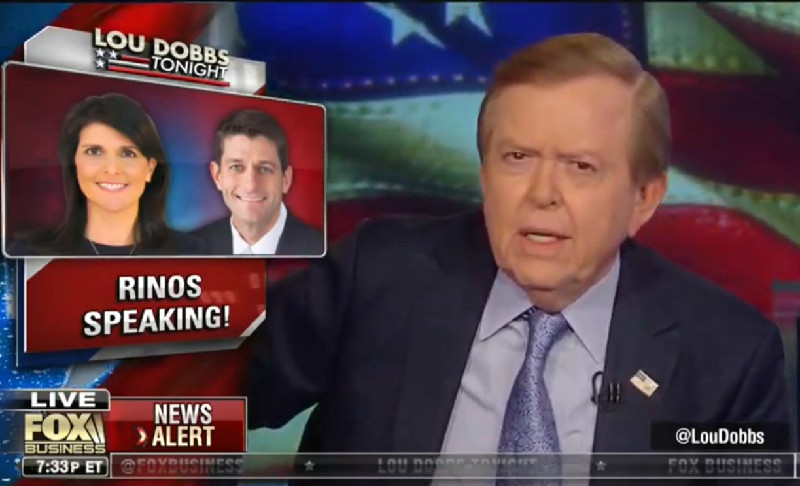 For the past couple of years, at least, Fox Business host Lou Dobbs has been a harsh critic of former Speaker of the House Paul Ryan (R-WI), personally blaming the one-time vice-presidential nominee for not carrying out parts of President Trump's agenda and derisively labeling him a RINO (Republican In Name Only). The criticism of the Wisconsin Republican did not abate even after Ryan retired from Congress earlier this year, with Dobbs saying Ryan's "ignorance will live in infamy forever."
Earlier this month, however, a funny thing happened. The former speaker joined the board of the new Fox Corporation, the parent company of Fox News and Fox Business Network. The new company began its first day on March 19th after the Disney-Fox deal which saw Disney acquiring most of 21st Century Fox.
On the day that Ryan was appointed to Fox Corporation's board of directors, Dobbs was curiously off the air, with Fox Business host David Asman serving as guest host. Later in the week, however, Dobbs was back in the chair. And the Ryan digs have continued to flow.
In a segment last week on border security, Dobbs groused about Ryan's inability to retain the Republican majority in the House of Representatives.
"You know, you've known what they are for 20 years, and we now have a Republican president and a Republican administration and Republican Senate, we had a Republican House until Paul Ryan screwed that up pretty thoroughly," Dobbs told Rep. Mark Green (R-TN). "And now, you guys can't come up with a response to what the radical Dimms are, or a way in which to secure the border."
And this past Monday, the pro-Trump Fox Business host insinuated that Ryan and former U.S. Ambassador to the United Nations Nikki Haley were getting paid off by unknown forces to make policy speeches.
"RINOs Paul Ryan and Nikki Haley, they are gone, they keep trying to come back, and they are getting a lot of money, somebody is paying them off, what do you think?" Dobbs posed to his viewers. "Keynote speakers at the Asian Leader Conference in South Korea."
He continued: "Do you suppose? Nah, couldn't be. Those two RINOs giving a speech in May on the U.S. government's policy in South Korea. We don't know how much they're getting paid by the conference but the former U.S. Ambassador Haley is known for charging $200,000 a speech. We'll tell you more as we learn it about what is in it for the former speaker to be speaking."
We have reached out to Fox Business Network for comment on Dobbs' continued attacks on one of their parent company's directors.
Watch the clips above, via Fox Business.