NBC's Savannah Guthrie Corrects Sarah Sanders' Claim That Mueller Report Is 'Total Exoneration'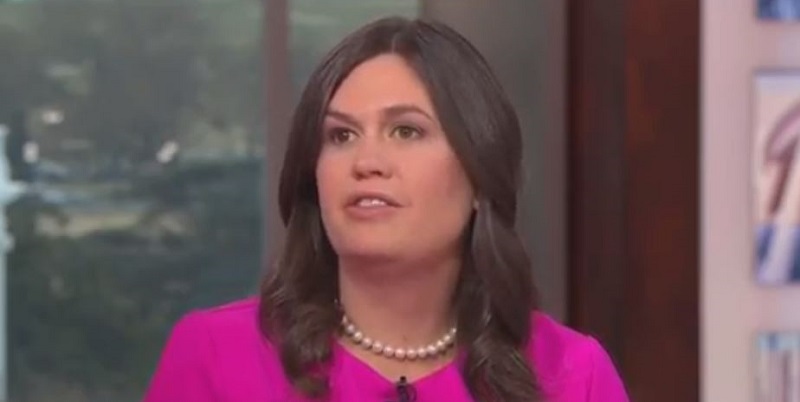 White House press secretary Sarah Huckabee Sanders appeared on The Today Show Monday morning to take a victory lap over the attorney general's summation of the Mueller report. Savannah Guthrie tried her best, but when you are talking to the enabler of a giant toddler, it can be difficult to move her off her talking points.
There are three particular moments to highlight. First, early in the interview, Sanders told Guthrie that the investigation "is a two-year waste of taxpayer time and dollars. They spent over $25 million on this just to find out that there was nothing there. This should never happen to another president, and we want to make sure that the institution of the president is protected."
The first part of this statement is so untrue as to be laughable. Part of Robert Mueller's charge was to investigate whether or not Russia undertook a campaign to meddle in the 2016 election. On that score, even William Barr could not find a way to deny that such a campaign happened. His letter very clearly states that "there were two main Russian efforts to influence the 2016 election." Mueller also indicted two dozen Russians on criminal charges for carrying out these campaigns. That, contra the president's press secretary, is not nothing.
As to the second part, the president's defenders, from Trump on down, are making Barr's conclusion all about its alleged exoneration of Trump. But there is much more to the story. It is telling that Trump's defenders are expressing no concern about Russia's efforts, are making no pledges to stop it from happening again and are casting blame on the Obama administration for allowing the Russian attack to happen, as Sanders does later in the interview.
The second moment to highlight occurred when Sanders tried to find evidence to support Trump's defenders' argument that he has been legally exonerated. This requires absolutely torturing the legal understanding of the word exoneration.
As Sanders put it, "In the legal community, when you can't convict somebody on something, you're exonerating them, legally exonerating them."
Guthrie, to her credit, pushed back on that commentary by saying, "You're not. As a legal matter to say that you can't prosecute someone because they don't meet the elements of the statute, it's not an exoneration."
Guthrie is correct. Not having enough evidence to indict someone is not the same thing as exonerating that person. It just means that a prosecutor doesn't think she can get a conviction in a court of law.
One final moment to highlight: Guthrie ran through some of the insults Trump has hurled at Mueller the last two years and asked if the special counsel "deserved better" from the president. Sanders turned it around by complaining about the rhetoric Democrats have thrown at Trump. Guthrie responded, "You have kids and you know that if you say did you do this, the answer isn't yeah, but my brother did that. So let's talk about the president's behavior."
Subtly and accurately noting that the White House press secretary is behaving like a toddler on national television. That is harsh.
Watch the entire interview up top, via NBC.