Fox's Stuart Varney On AOC: Socialism 'Suppresses The Animal Spirits'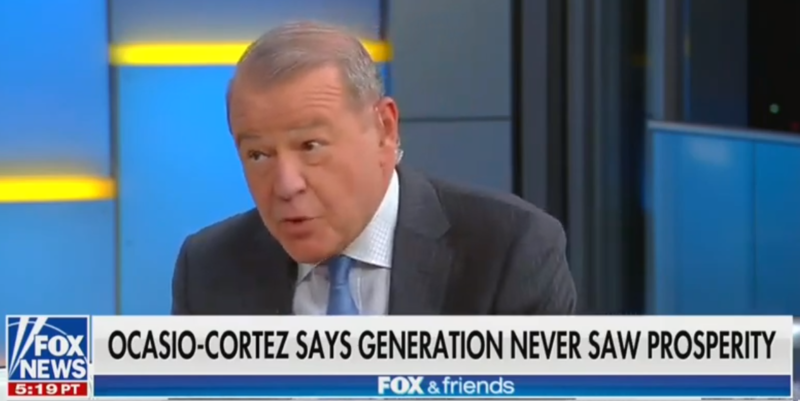 Fox & Friends had yet another segment on freshman Rep. Alexandria Ocasio-Cortez Friday morning. This time, the Fox News hosts discussed Ocasio-Cortez's recent interview with Time magazine. The New York Democrat said that her generation hadn't experienced American prosperity in their lifetime.
"Alexandria Ocasio-Cortez appearing in Time magazine, she and the author apparently say they have never experienced American prosperity. Do you think that's right?" host Steve Doocy asked.
"Yes I do, actually," Varney said. "For the past 10 years, America has not been a prosperous country, prosperous in the way I think of prosperity. I think of prosperous societies as dynamic, booming, growing, wages are rising. Confidence is there. Everybody feels good about their society. You're moving up the food chain. That's prosperity. We're all linked together with a commonality  of going places. We've not had that experience for the past 10 years. We've been weighed down with taxes and regulation, and an anti-business administration that kept a lock on America's engine of capitalism."
Picking up on the not-so-subtle jibe at the Obama administration, host Jedediah Bila asked: "Is she criticizing the Obama Administration without realizing it?"
There was a back and forth between Varney and Bila about whether Ocasio-Cortez was inadvertently criticizing former President Barack Obama. It is unlikely Ocasio-Cortez would accept Varney's economic analysis, however, rendering the conversation moot.
"I think the bottom line here is that socialism does not create wealth," Varney said. "Socialism does not create a kind of society which is booming and prosperous. It doesn't. It suppresses the animal spirits. It suppresses the urge to get out there and work, to move up the food chain. That's where I'm coming from. I don't think that is where she's coming from. She is a socialist."
The hosts then speculated, without evidence, that Ocasio-Cortez's mother had moved to Florida to escape high taxes.
Watch the video above, via Fox News.