John Kasich Calls Out Republicans for Putting Careers Over Calling Out Trump's Attacks on McCain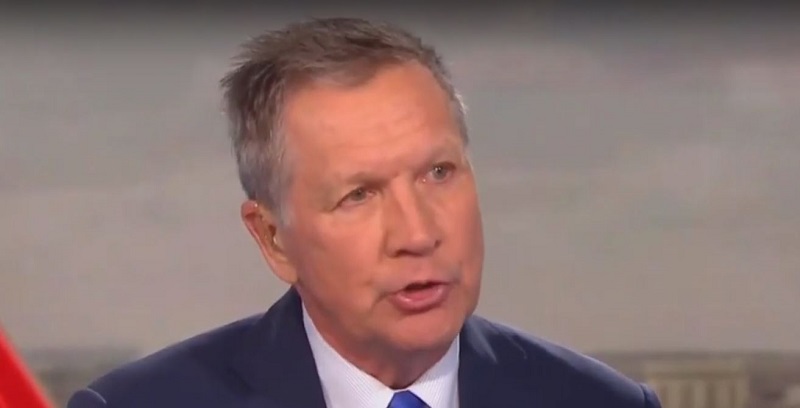 Former Ohio governor John Kasich told CNN's Brianna Keilar that his fellow Republicans who are refusing to condemn Donald Trump's recent disparaging comments about John McCain are scared that doing so will end their careers in politics.
Kasich had tweeted his own condemnation of Trump's remarks. Asked by Keilar why more Republicans were not following his lead, he answered, "Careerism over leadership. I'm in office, I want to stay in office, I kind of like it. I'm a United States senators. I'm like a flamingo, I get to flap around and be important and sometimes you can be addicted to a job like that."
It is possible Kasich meant to say peacock instead of flamingo. The former can be used as a verb to indicate showing off, which seems to be what Kasich was trying to say politicians like to do. But whatever, he was rolling.
Kasich continued on, saying that Republicans in office do not want to get "heat from the base" or have to face tough primary opponents. Which is accurate, and one major reason why so many GOP officeholders have fallen in line behind Donald Trump over the last few years.
The former Ohio governor also said that had he been at the army tank plant on Wednesday when Trump complained that John McCain didn't thank him for approving his state funeral, he would have walked out. Furthermore, "you probably never would have got to that tank plant because I didn't go to the convention…I got a lot of Republicans that don't like me. You know what? I wish they liked me but the fact that they don't like me, I don't care, because I've got something bigger at stake."
Kasich is referring to his skipping the 2016 Republican National Convention in Cleveland as a protest of his party nominating Trump. This has been Kasich's brand ever since. He is the unwavering truth-teller giving it straight to the GOP, swearing that there are bigger principles at stake than party loyalty.
Talk about peacocking. Or flamingoing in this case.
Watch the clip up top, via CNN.