Louie Gohmert Tells Fox News It's 'More Accurate' to Call Mueller Report the 'Mueller Dossier'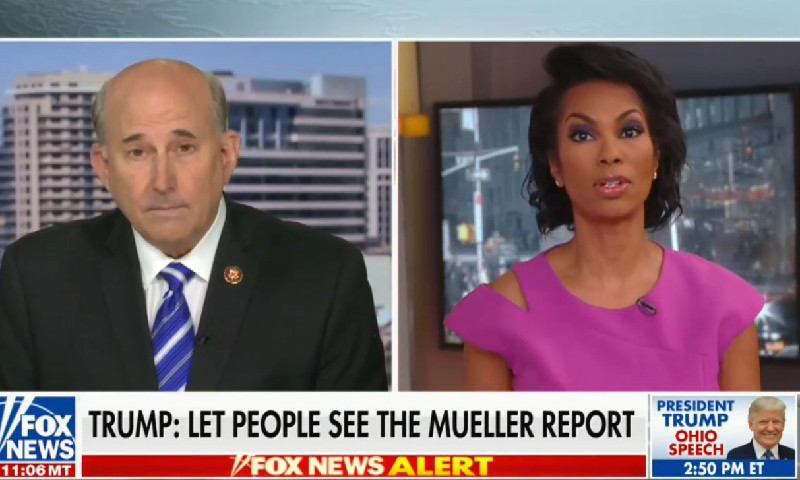 Moments after President Trump said he wants the American people to see all of Special Counsel Robert Mueller's report on the Russia investigation while simultaneously dismissing Mueller's authority because he wasn't "elected," far-right Texas Congressman Louie Gohmert appeared on Fox News and called on Mueller's team to be investigated while coming up with a new name for the report.
Speaking to Fox News anchor Harris Faulkner, the Tea Party lawmaker — fresh off his highly criticized response to the New Zealand mosque attacks — claimed that the special counsel doesn't want to cut the investigation short because they "got lots of money to spend and absolute discretion."
"People were saying it's about to end," he stated. "[Andrew] Weissmann is going. [Rod] Rosenstein is staying, Mueller is still reporting. That keeps limitations running on the investigation of him himself."
Gohmert continued: "I would think it's more descriptive, more accurate to quit calling it the Mueller report whenever it comes out. It's more like a Mueller dossier."
With the conservative firebrand and Trump loyalist obviously trying to smear the report by tying it to another right-wing point of contention — the Steele dossier — Faulkner excitedly replied: "Ooooh, you always speak your mind."
Gohmert went on to complain that Rosenstein still hasn't left the Justice Department, said that Mueller and his "henchmen" need to be "investigated themselves," and suggested that Trump wants to release the whole report because Mueller would leak it to the press if the Trump administration tried to keep portions secret.
Watch the clip above, via Fox News.