CNN's Brian Stelter Reports Fox News Has Suspended Jeanine Pirro Amid Backlash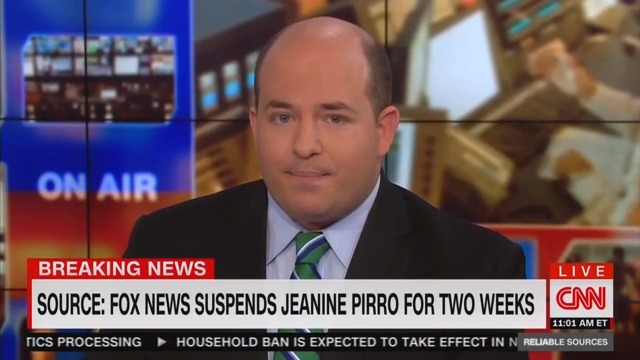 At the top of CNN's Reliable Sources Sunday morning, CNN senior media correspondent Brian Stelter reported that Fox News has suspended host Jeanine Pirro following her Islamophobic remarks on Rep. Ilhan Omar (D-MN), confirming what many had suspected after Justice with Judge Jeanine was pulled from Fox News' Saturday night schedule.
"As you know, Pirro was widely denounced last week for doubting Congresswoman Ilhan Omar's patriotism," Stelter said. "Fox publicly condemned her statements. But what you don't know is Pirro was suspended by Fox after the episode according to a source familiar with the matter. That's why she was absent Saturday night."
Fox News has declined to comment on the matter. A Fox News spokesperson told Contemptor that the network is "not commenting on internal scheduling matters."
President Trump delivered a tweetstorm Sunday morning to defend the pro-Trump host and demand that Fox News bring her back on the air, claiming Pirro and embattled Fox News primetime star Tucker Carlson are being silenced by the "Fake News Media" working in tandem with "Radical Left Democrats."
"Stop working soooo hard on being politically correct, which will only bring you down, and continue to fight for our Country," Trump tweeted. "The losers all want what you have, don't give it to them. Be strong & prosper, be weak & die!"
Pirro has come under fire for suggesting Omar doesn't believe in the United States Constitution because she wears a hijab. Following her remarks, Fox News released a network statement "strongly" condemning the host. A number of companies, meanwhile, have asked for their advertisements to be pulled from Pirro's show in the wake of the backlash.
Watch the clip above, via CNN.