This Is CNN: Pundit Debate Quickly (and Predictably) Devolves Into Incomprehensible Shoutfest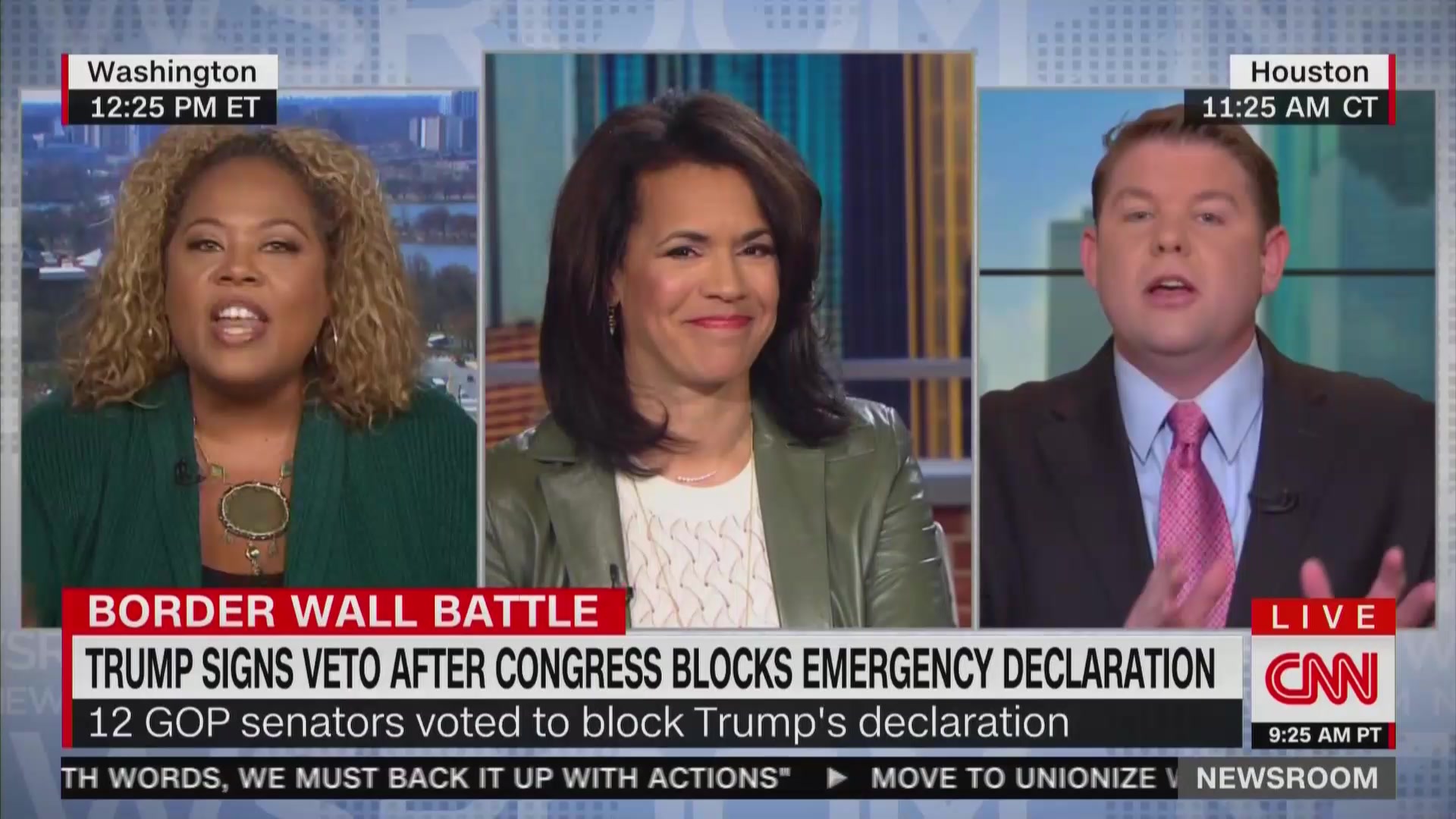 One of the most criticized aspects of CNN's programming is the constant pitting of two diametrically opposed pundits to debate some hot button political or social topic. The segments generally descend into chaotic messes as the two combatants try to land verbal body blows via well-rehearsed talking points in their staged sparring matches. The segments are such a staple of CNN's airtime, in fact, that primetime host Chris Cuomo features a nightly 'Great Debate.'
If you ever wanted to see a prototype of one of these shoutfests, look no further than Saturday afternoon's discussion between CNN political commentators Tara Setmayer, a fervent Never Trump Republican, and Ben Ferguson, a Trump sycophant. They were brought on by anchor Fredricka Whitfield to ostensibly discuss President Trump's veto of Congress' resolution to block Trump's national emergency declaration, a resolution that featured 12 GOP senators voting with their Democratic colleagues.
But, really, who cares what they were talking about? They were there to fight. And fight they did.
After the two seemingly reached a consensus agreement that the president shouldn't abuse his power with executive overreach to fund the border wall, Setmayer got things rolling by saying the president is claiming there's a national emergency at the border to "gin people up in fear." And we were off to the races.
Quickly the two were yelling at each other with Setmayer telling her opponent to not "even go there" and to not even "dare patronize" her as Ferguson bragged about being a radio host on Capitol Hill. Eventually, things got so incomprehensible that the closed captioning showed [ Everybody talking at once ] four separate times.
Whitfield, meanwhile, just flashed a grin to the camera as the talking heads played their parts to perfection.
Of course, this is exactly how CNN president Jeff Zucker wants it to play out day after day. Following Trump's election, Zucker — who previously served as NBC's chief when Trump's The Apprentice aired there — felt his pro-Trump commentators are "characters in a drama" and proudly boasted that viewers know their names when they hit the air.
Watch the clip above, if you dare, via CNN.
[H/T BuzzFeed's David Mack]