Hannity and Maddow Finish One-Two in Wednesday's Ratings, Tucker Takes Third Place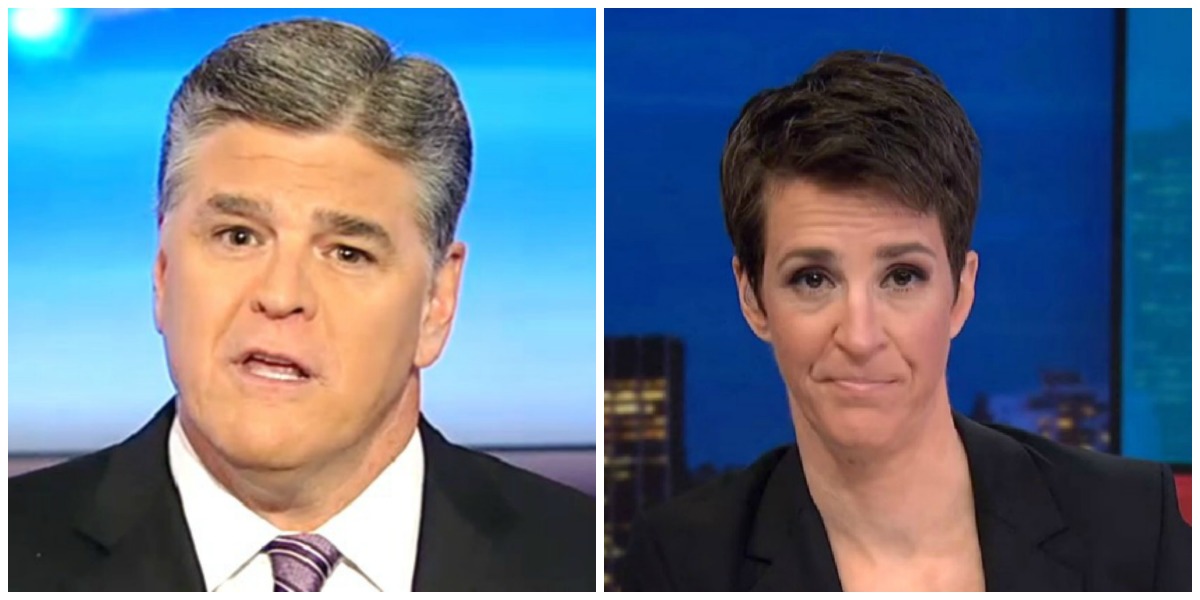 After controversy-ridden Fox News host Tucker Carlson ruled cable news' ratings Tuesday night, fellow Fox star Sean Hannity took over the top spot Wednesday, leading in both the key 25-54 advertising demographic and total viewership. MSNBC's The Rachel Maddow Show, meanwhile, was the runner-up in both metrics.
According to Nielsen, Fox News dominated the 8 PM to 11 PM primetime hours, averaging 3.112 million viewers overall and 567,000 in the demo. MSNBC followed up with 2.560 million total viewers and 435,000 in the 25-54 demographic. CNN pulled in a total audience of 997,000 and 275,000 demo viewers.
In the 9 AM to 5 PM daytime slot, Fox News drew 1.568 million total viewers and 224,000 in the demo. CNN captured 172,000 demo viewers and a total viewership of 800,000. MSNBC nabbed 1.352 million viewers overall and 168,000 in the key demo.
Fox's Hannity, airing at 9 PM, averaged a scorching 3.371 million total viewers and 626,000 in the demographic. Maddow, which airs opposite Hannity, posted strong numbers as well, drawing a total viewership of 3.205 million and 571,000 in the key demo.
Carlson placed third in both the demo (553,000) and total viewership (3.108 million). Fox News' The Ingraham Angle, another show that's been no stranger to controversy, took fourth place overall in total audience (2.857 million) and the key demo (524,000).
CNN struggled to draw much of an audience on Wednesday, with only two programs topping a million viewers. The most-watched show for the network was Cuomo Prime Time, which drew