After Fox & Friends Slams The View Over #FakeMelania, Trump Claims Media Photoshopped Pictures of Her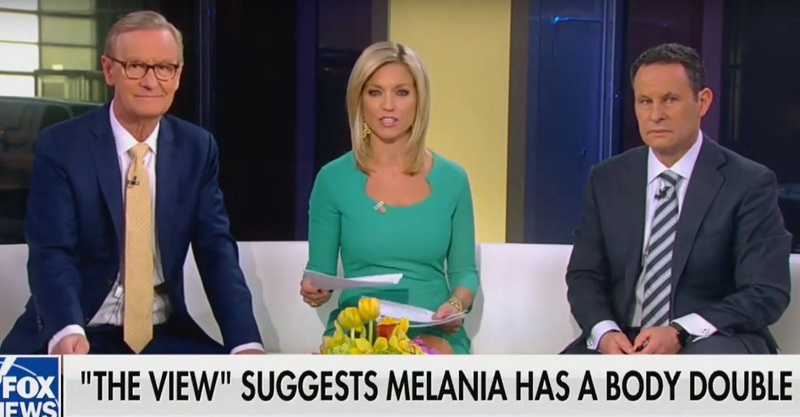 President Trump spent Wednesday morning doing what he does — accusing the "Fake News" of conspiring against him:
The Fake News photoshopped pictures of Melania, then propelled conspiracy theories that it's actually not her by my side in Alabama and other places. They are only getting more deranged with time!

— Donald J. Trump (@realDonaldTrump) March 13, 2019
The source of his ire appears to be two Fox & Friends segments about the #FakeMelania theory that was going around the Internet recently.
Last Friday, the First Lady accompanied Trump to Alabama to pay their respects to victims of a tornado that killed 23 people and caused widespread damage. A few people on the Internet thought that in some photos, Melania did not look like Melania. Instead, the woman standing next to Trump seemed to be notably shorter than him, with a slightly puffier face. Whereas Melania is almost as tall as her husband, with cheekbones that could cut glass.
This led to a #FakeMelania hashtag trending over the weekend as people pored over photos to make their case.
The hosts of Fox & Friends played a segment from The View in which the hosts of that show talked about the conspiracy theory. None of them appeared to take it seriously as they ran through the evidence.
Later, Tammy Bruce appeared on Fox & Friends to criticize the media for using the conspiracy theory as an "excuse to mock the first lady":
Bruce also accused the women of The View of going all Mean Girls on Melania, saying that "When you're in college or high school, there is the pretty girl who is nice, and you go with the marker to mark up her locker and then you gossip about her, call her names. That is what these adult women were doing to the first lady."
She continued, "[It] reminds us of their jealousy, envy, the fact they have nothing else to do other than being mean."
No one on either show mentions Photoshop. The president seems to have looked at the photos, agreed that Melania looks different than normal in them, and then accused the "Fake News" of faking the photos to start a conspiracy theory. This might be even nuttier than the original theory.
Watch both clips above, via Fox News.