Spokesperson For Jewish Anti-Democrat Group: My Jewish Friends Don't Understand Why I Like Trump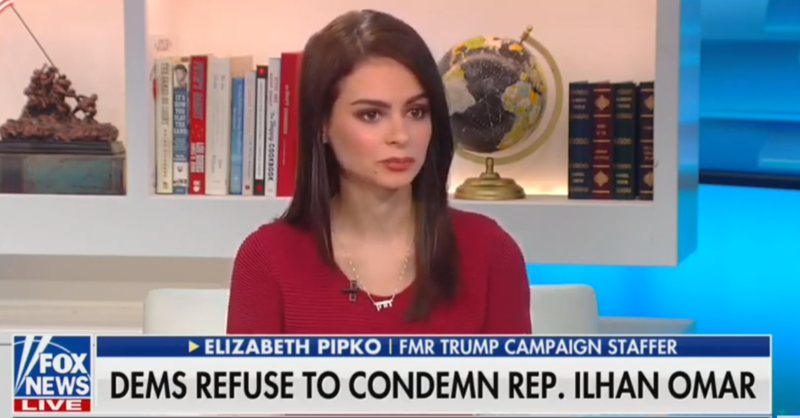 A supporter of President Donald Trump appeared on Fox & Friends Tuesday morning as a spokesperson for Jexodus, an organization that wants Jewish Americans to leave the Democratic Party. Citing the comments by freshman Representative Ilhan Omar, the group believes the Democratic Party is antisemitic.
Elizabeth Pipko is a former Trump campaign staffer and Jewish. She explained her involvement with Jexodus, but at times seemed half-hearted and eventually admitted that even her Jewish friends don't agree and the chances of converting most Jewish people to the Republican Party are slim.
Pipko discussed the comments made by Omar and also claimed that former President Barack Obama's policies towards Israel were partly to blame the creation of Jexodus, which is a combination of the word 'Jewish' and 'Exodus'.
Fox & Friends host Steve Doocy showed a graphic of Jewish support for Trump and Hillary Clinton in the 2016 election.
"Hillary Clinton wound up with 71% of the Jewish vote and Donald Trump got about a quarter. Do you see that changing in the next election, the ratio between the Republican and the Democrat?" Doocy asked.
"So we're obviously very realistic and also optimistic under President Trump, literally anything can happen," Pipko said. "But, also we know that the Democrats are currently helping us out. I mean, they are proving our point. You know, they don't care about Israel. They don't care about the Jewish people. And the Jewish people need to show them if they don't support us we are not going to support them. So, we know, obviously, that the Jews have overwhelmingly supported Democrats. But it doesn't mean that the Jewish vote should be discounted."
Ainsley Earhardt asked why more Jewish people don't support Trump considering his strongly pro-Israel stance.
"I have no idea. Honestly, I've never understood it," Pipko admitted. "After the President moved the embassy, which so many presidents including President Obama and Bush promised to do that, I thought there would be a shift, obviously."
"I thought people would at least understand, Jewish friends would understand why I supported him who didn't at first. They didn't. They never changed their mind. They stuck to the narrative President Trump is bad and they refused to change."
"What are they saying now?" Earhardt asked.
"Same thing," Pipko said. " I don't think they're going to change."
Watch the video above, via Fox News.