Morning Joe: Trump-Loving Evangelicals Are Letting God Take A Back Seat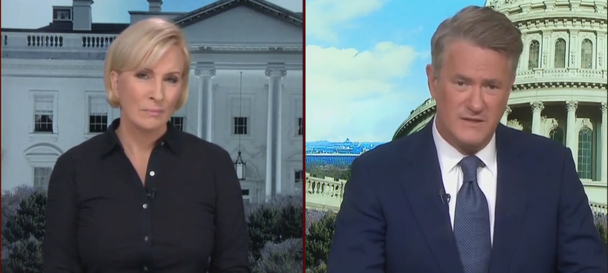 Morning Joe's Joe Scarborough took Evangelical supporters of President Donald Trump to ask Monday morning. The MSNBC host wondered aloud why so many religious Americans supported a President who does not appear to follow the teachings of Jesus Christ.
Scarborough was speaking with presidential historian Jon Meacham about Trump signing Bibles on a recent visit to Alabama. Scarborough then revealed that some religious Americans had been sending emails telling him he needed to support Trump for the good of his soul.
"An old friend of mine said this weekend, and said that they're sending e-mails because they wanted to make sure that I made it to Heaven," Scarborough said, laughing. "And the e-mails were talking about  – I had not seen these e-mails, thankfully, about how I needed to be more loyal and faithful to Donald Trump."
"Now, lest you believe this is a new phenomenon in Evangelical churches, I had a good friend who was in the ministry in a church in the Pensacola area who told me during the Bush era that they had to actually bring people in – parishioners in, and let them know that somebody could believe in Jesus and accept Jesus as their lord and savior and not support George W. Bush 100% of the time."
"It is a strange, strange thing that has happened, not in American politics but in American religion, especially among some Evangelicals, where they have decided to render all of their faith, all of their belief, all of their trust in Caesar and let God take a back seat."
"I think that's really important because – and just at the risk of total self-parody at this hour, the reason for the wall metaphor between church and state was not to protect the state from the church but the church from the state," Jon Meacham said.
Scarborough and Meacham spoke briefly about the history of religion in the United States and Scarborough puzzled over Evangelical support for Trump.
"I do not understand, though, putting faith in man above putting faith in God," Scarborough said. "Especially when the man that so many leaders of the Evangelical movement are putting their faith in, is a man who, again, by his very words and his deeds and his actions every day, every single day, shows that his life's work, his life example, runs counter to every single beatitude, every single lesson taught in Jesus' Sermon on the Mount, which really does sum up in three verses the ministry of Jesus Christ."
Watch the video above, via MSNBC.