CNN Analyst: Tulsi Gabbard Denying Assad's a War Criminal Is 'Un-American' and 'Beyond the Pale'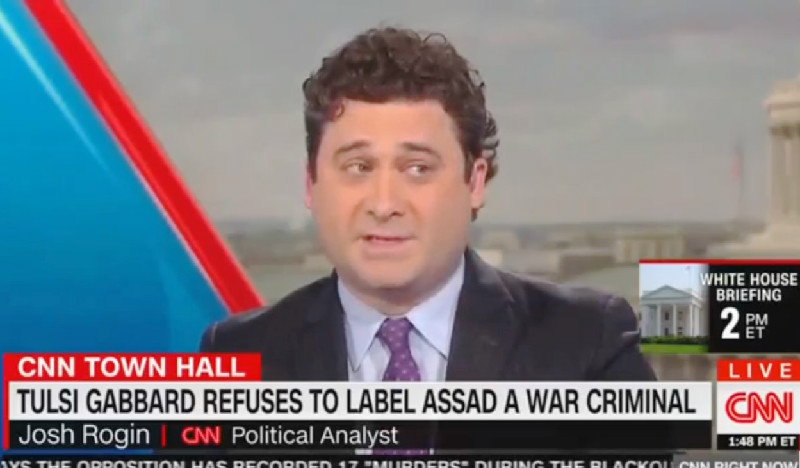 During a CNN town hall event at South by Southwest this past weekend, Democratic presidential candidate Tulsi Gabbard declined to say whether or not Syrian President Bashar al-Assad is a war criminal despite overwhelming evidence that he has repeatedly used chemicals on his own population. Reacting to Gabbard's continued deference to the Syrian dictator, Washington Post columnist and CNN political analyst Josh Rogin said the Hawaii lawmaker's remarks bordered on being "un-American."
At Sunday's forum in Austin, Texas, Gabbard told host Dana Bash that "I think that the evidence needs to be gathered, and as I have said before, if there is evidence that he has committed war crimes, he should be prosecuted as such" when asked to say whether Assad is a war criminal. She has previously claimed she was "skeptical" that Assad has used chemical weapons on his citizens and once took an unannounced visit to the autocratic ruler.
"There is a ton of evidence, overwhelming evidence," Rogin told CNN host Brianna Keilar Monday afternoon. "I mean, not just of chemical weapons attacks but mass torture, mass starvation, mass murder in Assad's prisons over eight years, ongoing today, 55,000 pictures brought out of Syria by a defector named Ceasar. They're on display at the Holocaust museum."
He added: To be fair to Tulsi Gabbard, her campaign is based on a principal opposition to U.S. intervention in the Middle East, and that's a reflection of the war weariness of the American people, of the mistakes we've made in that region over the past decades, and I think that's a legitimate political argument. But to deny the fact that Assad is a war criminal is to turn a blind eye to mass atrocities, and that is beyond the pale and I would argue un-American."
After Keilar noted that Gabbard has argued that she is taken a more nuanced approach to foreign policy and intervention due to her time served in the military, Rogin asserted that Gabbard tweeted support for the Aleppo war crimes in the past and was the only one to vote against a 2016 resolution to hold Assad accountable for use of chemical weapons.
"She says any discussion of war crimes is a thinly veiled effort by neocon warmongers to justify it," he insisted. "I've argued that's a false choice. We don't have to invade Syria, and I don't know anyone who is arguing for invading Syria at all, in order to hold Assad accountable for war crimes. You can do both."
Watch the clip above, via CNN.