Fox News' Pete Hegseth: My New Life Goal Is For Trump To Sign My Bible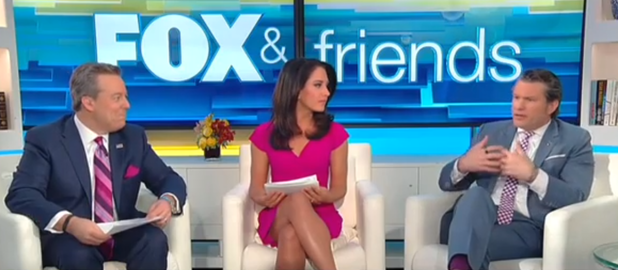 President Donald Trump has been widely mocked for autographing two Bibles while visiting tornado survivors in Alabama. But on Fox News, criticizing Trump for this potential act of sacrilege was painted as an attack on people of faith. Fox & Friends Saturday went to bat for the President.
Pete Hegseth and his co-hosts took Elle magazine and a few famous Twitter users to task for mocking Trump's Bible autographs. Trump had been criticized for the decision in a town where people need a way to make food following a disaster that devastated the town.
"The people there actually wanted him to do it," one of the hosts said. "You know, I know, I have been out on the road with candidates where they are asked to sign a dollar bill, for example,  and there's controversy about whether you are supposed to sign currency. If a citizen asks you, and you're trying to be nice, what is the President going to do to these people who have just been through this horrific tragedy and lost family members. I'm not going to sign your Bible?"
The segment painted criticism of the autographs as elitist and intolerant of people of faith. Pete Hegseth took the argument a step further, claiming he would love to have a Bible autographed by the President.
"Like me, do you have a new life goal?" Hegseth asked viewers. "My new life goal is President Trump signs Bible that I own. I'm going to work on that."
"I'm just saying what in the world is wrong with this? Faith is so important. It's central to so many people's lives. You go through a tragedy. The President of the United States is there. He signs it. Good for you."
Watch the video above, via Fox News.