Hannity Takes Back Top Spot Thursday Night, Beats Maddow In Total Viewership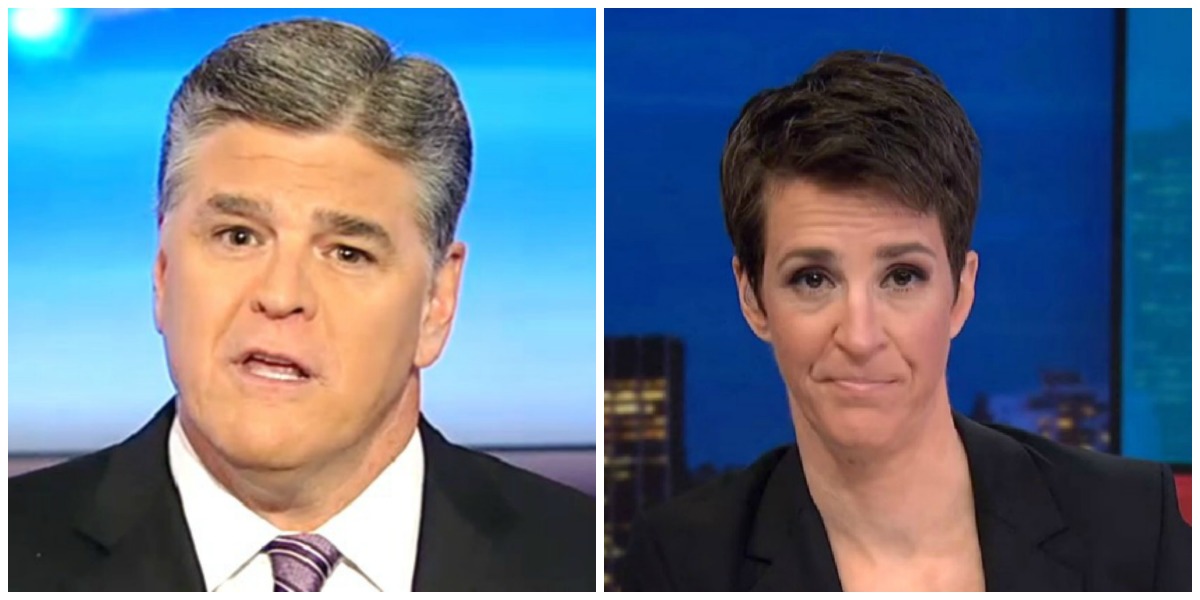 A day after MSNBC's The Rachel Maddow Show pulled in nearly a million more total viewers than Fox News' Hannity, the Fox primetime program rebounded with a first-place showing on Thursday, leading cable news in total viewership. Maddow, meanwhile, still took the top spot in the key 25-54 demographic.
According to Nielsen, Fox News led across the board during the 8 PM to 11 PM primetime hours, drawing 2.883 million total viewers and 466,000 in the key demo. MSNBC followed with 2.396 million viewers overall and 445,000 in the demographic. CNN pulled in a demo audience of 280,000 and 1.073 million total viewers.
In the 9 AM to 5 PM slot, Fox News averaged 1.584 million viewers overall and 233,000 in the demo. CNN nabbed 157,000 in the key demographic and a total viewership of 713,000. MSNBC attracted 1.140 million viewers overall and 156,000 in the demographic.
Hannity drew a total audience of 3.231 million and placed second in the demo with 531,000. Maddow, which airs opposite Hannity at 9 PM, took second in total viewership (2.901 million) while finishing first in the demo (534,000).
Fox's Tucker Carlson Tonight was third in both the demo (461,000) and total viewers (2.861 million). FNC's The Five finished fourth in the two metrics, delivering 2.734 million viewers overall and 426,000 in the demographic.
The top-rated program on CNN was Cuomo Prime Time, which drew 1.169 million total viewers. Erin Burnett OutFront led in the demo with 325,000.