After Comparing Ilhan Omar To White Nationalists, Joe Scarborough Wonders If He's 'Being Too Tough'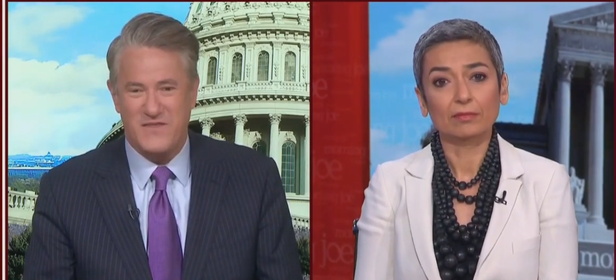 MSNBC's Morning Joe has devoted a lot of time over the past few days to discussing Democratic Representative Ilhan Omar and the accusations of Antisemitism against her. Joe Scarborough has been particularly passionate in his attacks on Antisemitism and bigotry in general, and he picked up the argument again on Friday.
Morning Joe has spent more time talking about Omar's remarks than Fox News in recent days, with Scarborough leading the scathing criticism of the freshman congresswoman. He's also been accused of oversimplifying the issues and even telling Jewish people how they should feel about it.
On Friday morning's show, Scarborough seemed to become a little more self-aware. He compared Ilhan Omar to white nationalists twice in the space of a few minutes, but then wondered aloud if he was being too harsh on her. He has been lecturing Democrats about their response to Omar's remarks for days.
"You know, Nancy Pelosi and the entire Democratic leadership team have put out the strongest statement that anybody could put out condemning the congresswoman," Scarborough said. "Of course, the congresswoman continues to peddle antisemitic tropes but she released a joint statement calling the resolution historic, adding, quote, 'at a time when extremism is on the rise, we must explicitly denounce religious intolerance of all kinds and acknowledge the pain felt by all communities.' And I hope that means, I really do, I hope that means that her antisemitic tropes will come to an end."
"She's doing it far too much and if she continues you can only conclude she knows exactly what she's doing. Because if it continues, if her antisemitic tropes continue, she will be doing exactly what people like David Duke and Neo-Nazis on the far right do with their antisemitic tropes. I'm sure she won't do that. I'm sure yesterday was actually a very moving experience for her. She's talking about condemning racism and bigotry for people of all faiths and all races. Maybe yesterday was a teachable moment, as they say."
Though the latter half Scarborough's statement might be considered generous, moments later he compared Omar to former Ku Klux Klan Grand Wizard David Duke for a second time. He seemed to argue that it was impossible for Jews and Muslims to communicate if Omar continued speaking the way she has. Guest Zainab Salbi was calling for better communication with civilians in Israel and Palestine.
"Yes. We can't do that, though, if she's sounding like a white nationalist talking about Jews moving into her neighborhood," Scarborough said. "Or talking like David Duke would talk about Jewish money."
"We saw this from Donald Trump with the Star of David over Hillary Clinton's face. We've seen this from white nationalists all along, we've seen this from antisemitic bigots again, talking about international bankers for decades, for centuries."
"I don't know, maybe I'm being too tough on Representive Omar right here – someone who I really, really want to succeed badly, because it actually show what kind of nation we are if she succeeds and other Muslims succeed and this Muslim American succeeded and it proves Donald Trump to be wrong. So, nobody's rooting for her more than I am. Isn't this like the third or fourth time she's engaged in these tropes? Hasn't she had three or four teachable moments and she just keeps driving through the barricades?"
Watch the video above, via MSNBC.