Maddow Trounces Hannity In Wednesday Night Ratings, Leads Cable TV in Total Viewers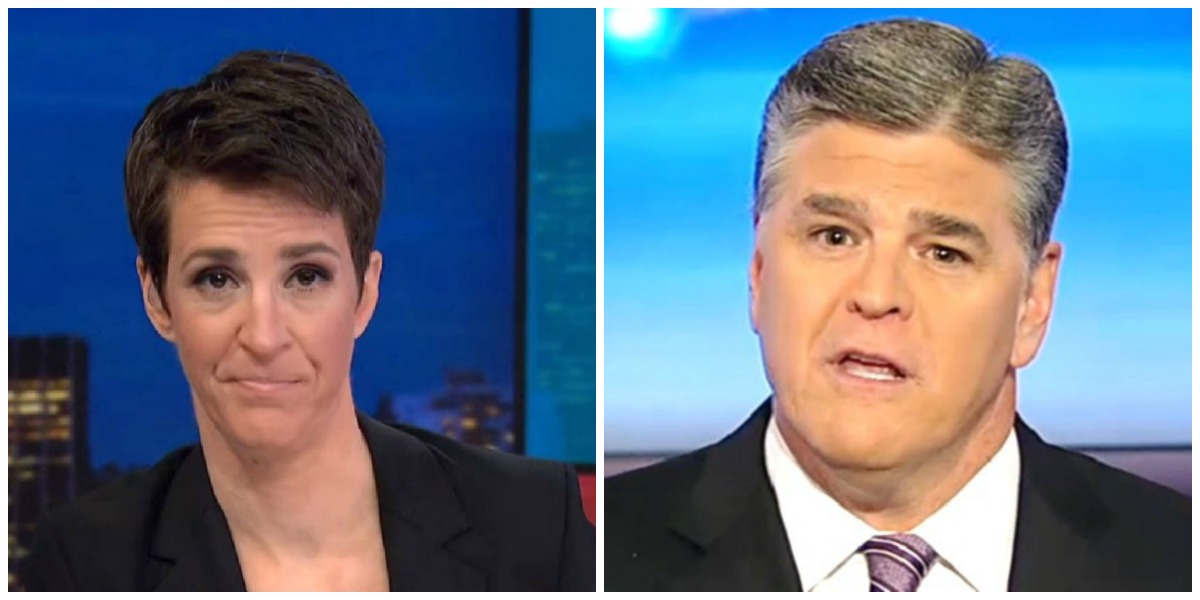 MSNBC's The Rachel Maddow Show posted huge ratings Wednesday night, leading all of cable television in total viewership and cable news in the key 25-54 demographic. Maddow easily defeated fellow 9 PM cable news program Hannity, nearly drawing a million more viewers, while also besting broadcast network CBS head-to-head.
According to Nielsen, MSNBC led across the board in the 8 PM to 11 PM primetime hours, averaging 2.806 million viewers overall and 478,000 in the key demo. Fox News drew 401,000 demo viewers and a total audience of 2.559 million. CNN pulled in 1.176 million viewers overall and 343,000 in the demographic.
In the 9 AM to 5 PM daytime slot, Fox News nabbed 1.477 million total viewers and 218,000 in the demo. CNN captured a demo audience of 178,000 and 763,000 in the key demographic. MSNBC delivered a total viewership of 1.119 million and 164,000 in the 25-54 metric.
Maddow dominated cable news on Wednesday, cruising to wins in both total viewership (3.601 million) and the key demo (649,000). Besides leading all of cable television in total viewers, The Rachel Maddow Show finished seventh overall in broadcast television, beating CBS's World's Best at 9 PM.
Fox News' Hannity placed a distant second in total viewers (2.744 million) and fourth overall in the key demo (403,000). Fox's Tucker Carlson Tonight took third in total audience (2.609 million) and second in the demographic (444,000). MSNBC's The Last Word finished third in the demo (415,000) and fifth in total viewers (2.604 million).
The top-rated program on CNN was the 9 PM broadcast of Cuomo Prime Time, which drew 1.232 million viewers overall and 366,000 in the key demo.