Kirstjen Nielsen Blames Everyone but Herself and the Trump Administration for Border Security Crisis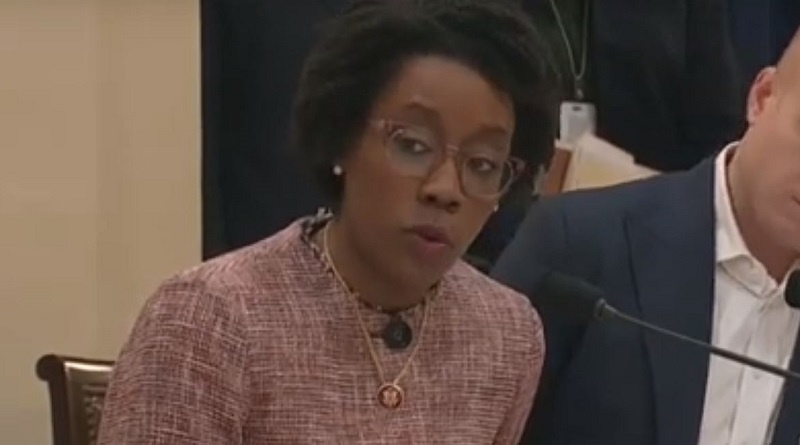 There was a remarkable series of exchanges in Wednesday's House Homeland Security committee hearing between Homeland Secretary Kirstjen Nielsen and Rep. Lauren Underwood (D-IL).
Underwood, a trained nurse, wanted to talk about the effects that being forcibly separated from their parents can have on the mental and physical health and development of young children. Nielsen, being the enforcer of a policy that enacts such forcible separations, naturally wanted no part of those questions.
Underwood began by asking Nielsen if she was aware of research that shows how such separations can harm childrens' health. Nielsen responded by saying that her understanding at the time was that the part of the trauma came from "the journey to come up to the border illegally."
It is not in fact illegal to travel to the border. It is also not illegal to ask for asylum, which many of the separated families intend to do.
Underwood then asked a series of questions about whether Nielsen was aware of the condition of "toxic stress" that can be caused by the trauma of family separations, or if she knew that this condition can hinder the development of a child's brain, leading to "behavioral changes and learning delays" in children. Nielsen responded that "family separations includes the sixty thousand UACs [unaccompanied children] who were separated by their parents before they ever got to the border."
Finally, Underwood asked if Nielsen was aware that traumatic separations "increase a child's risk of heart disease, diabetes and cancer." Nielsen responded that she "would ask all parents to go to ports of entry, not to separate their children and send them on the journey alone."
Taken altogether, Nielsen's answers amount to victim-blaming. Asked multiple times if she is aware of the negative effects on children caused by her department's actions, her response is to engage in a form of "whataboutism." Whatabout the parents who separated the children to send them on the journey to America alone in the first place. Whatabout the people who choose to cross the border illegally, why aren't you telling them to stop doing that. (That the Trump administration can choose to not separate those families that do that by revoking its "zero tolerance" policy never seems to cross her mind.) Whatabout Americans who are arrested for crimes, we don't take their children to jail with them and this is no different.
Whatabout whatabout whatabout.
Even more infuriating, Nielsen continued to insist that the Trump administration does not have a family separation policy. This is only technically correct. The administration has insisted on enforcing the "zero tolerance" policy for families caught trying to cross the border that requires the adults be prosecuted. The practical effect of this is that these adults are taken to jail to await their turn in the legal system while their children are taken elsewhere. Later in the hearing, Nielsen had to admit that she knew that enforcing zero tolerance would result in these, yes, family separations.
What is most appalling about Nielsen's answers is that she seems uninterested in any resolution to this issue that would require her to take responsibility for anything. She portrays herself as helpless to do anything but enforce the law. She demands that the migrants stop trying to cross the border illegally. She demands that Congress fix something, though it is never clear what. The laws? A lack of funding? Your guess is as good as mine.
The picture that emerged today was of an administration outraged that anyone would question their methods at the border. But Nielsen and everyone else who works for Trump needs to get used to it. Nothing she said in this hearing is going to convince the Democrats that everything is fine.
Watch video of Underwood questioning Nielsen up top, via C-SPAN.