Dan Bongino: Michael Cohen's Testimony Was Devastating For Democrats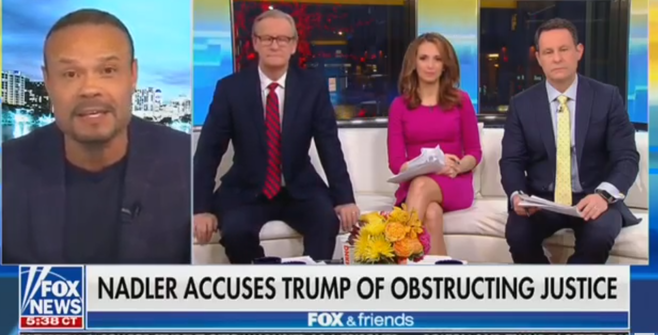 Fox News contributor Dan Bongino told Fox & Friends Monday morning that Michael Cohen's testimony to Congress was devastating for Democrats. Bongino's unusual take on the shocking admissions from the President's former lawyer was part of a wider argument that there is no evidence of collusion.
Following a clip of Democratic Congressman Jerry Nadler talking about further investigations into President Donald Trump's potential crimes, Bongino doubled down on 'collusion delusion' rhetoric.
"Do you understand they're  just making this up?" Bongino said. "And what's frustrating is you think they would have learned a lesson. Listen, I'm a Republican, I'm a conservative, but I think we can all agree the impeachment effort against Bill Clinton, viewed now through a more clear historical lens, failed."
"Back fired badly," Bongino said. "You would think the Democrats would have learned something from this. They have nothing. This is a big shell game. There's nothing there they continue to double down."
Former President Bill Clinton was never accused of the kind of crimes President Trump is suspected of, nor were Clinton's close associates ever convicted of lying to Congress, as Trump's former lawyer, Michael Cohen, was.
Fox & Friends showed clips of Democratic Representative Adam Schiff saying that there is evidence of collusion. This prompted Bongino to make a startling argument.
"Well, Steve [Doocy] just said it. You can see it in plain sight but it's like the It from the Steven King movie," Bongion joked. "Nobody knows what the 'it' is. Like it's a clown one day. No-one knows what the it actually is. You understand this guy is making this up. He's got nothing. He's a carnival barker. He has nothing."
"Here's why he's doing this though, now. There's  a reason," Bongino said. "The Michael Cohen hearing was devastating for them. He was star witnesses, dreaded air quotes there. And what did he do? He went up to the Hill and he said the key component of their entire case, that Michael Cohen was in Prague to coordinate this whole conspiracy with the Russians. Cohen said it wasn't true. Keep in mind, he's their star witness. Not Trump's."
"And he just decimated the entire collusion hoax. So what does Schiff do? Instead of being honest, he just has to double down and hope nobody holds him to account for his two years of lies," Bongino said. "And because he's a Democrat, he won't be held to account."
Bongino has misrepresented the story about Cohen's potential trip to Prague. The Russian collusion case is not dependent on Cohen having made a trip to Prague, nor is it necessarily the Special Counsel's claim that Cohen was the central organizing figure. Bongino also ignored Cohen's testimony which accused Trump of potentially committing insurance and tax fraud, among other things.
Watch the video above, via Fox News.